Review
| | |
| --- | --- |
| Rating: | |
| Title: | Tigranes the Great: The Rise and Fall of an Ancient Empire |
| Author: | Momjian, Serge |
| Audience: | General Public |
| Difficulty: | Easy |
| Publisher: | Heddon Publishing |
| Published: | 2020 |
| Pages: | 174 |
An engaging work written for a general audience. The book reads like a novel through the use of dialogue, carefully reconstructed settings, and an excellent command of narrative form. The author is well-versed in the subject matter and has won awards for past publications. Highly recommended.
Tigranes the Great: The Rise and Fall of an Ancient Empire (A Comprehensive Historical Biography) by Serge Momjian is an instantly engaging work on the life and reign of the Armenian monarch Tigranes II (the Great, r. c. 95 - c. 56 BCE) written for a general audience. The book reads like a novel through the use of dialogue, carefully reconstructed settings, and an excellent command of narrative form and progression.
The author presents Tigranes' story in an accessible form and style, easy to read and unimpeded by citation. The intention is to engage a reader fully in Tigranes II's life and world. In A Note to the Reader, the author explains the goal of the work:
This is not historical fiction, but a political biography based on true history with real historical figures… The idea is to bring the ancient past to life. It is hoped that this work will be accessible to those who love history but may never have read about Tigranes' reign. (xvi)
Mr. Momjian admirably succeeds in this, bringing Tigranes II to life fully through clear prose and precise description of places and events. Mr. Momjian has a background in creative writing and journalism which is apparent in his thorough research, attention to detail, and engaging presentation. He has published articles, novels, and non-fiction works and is the 2015 CE recipient of the William Saroyan Medal, awarded by the Ministry of Diaspora of the Republic of Armenia.
The book is a slim volume of 142 pages, divided into 24 chapters plus an appendix that features maps and images relating to the text and a chronology of Armenian monarchs. There are a number of especially well-executed scenes and sequences throughout the book, but among the best is the Battle of Tigranocerta of 69 BCE, pitting Tigranes II against the Roman army under the general Licinius Lucullus. Tigranes was the son-in-law of Mithridates VI (r. 120-63 BCE) of Pontus who fought the Mithridatic Wars with Rome between 89-63 BCE. The Romans demanded Tigranes II hand Mithridates VI over to them, and when he refused, they invaded.
The battle did not go well for Tigranes II whose troops were caught off-guard by Lucullus and defeated. In describing a pivotal moment, Momjian writes:
A few moments later, the sound of galloping horses could be heard from the rear of Tigranes' army stationed on the riverbank. All his soldiers looked back and saw Lucullus' cohorts coming at full speed towards them… Panic spread throughout the line of his army, which began to collapse, as his vassal kings and nobles deserted him in haste for Roman protection. As a result of calculated attacks by the Romans, Tigranes' army disintegrated in a matter of hours and he himself took flight northwards. (104)
Tigranes II would eventually submit to the Roman general Pompey the Great (l. c. 106-48 BCE) and his empire would be absorbed by Rome, but at the height of his reign, he commanded a vast empire and is recognized as one of the greatest kings of his age.
Unlike other works on the topic, written for an academic audience, Momjian's book serves as a lucid introduction to Tigranes II's life for any audience with an interest in ancient history. It was my great honor to be asked to consult on the work in manuscript form fact-checking and proofreading, and I recommend the book highly. Although I have known Tigranes' story for many years, when I read Momjian's book I found myself in suspense toward the end, eager to learn how things might turn out for the protagonist.
Buy This Book
$14.25
free shipping worldwide
$11.95
plus shipping
By purchasing books through this website, you support our non-profit organization. World History Encyclopedia receives a small commission for each book sold through our affiliate partners.
About the Reviewer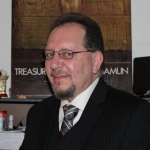 A freelance writer and former part-time Professor of Philosophy at Marist College, New York, Joshua J. Mark has lived in Greece and Germany and traveled through Egypt. He has taught history, writing, literature, and philosophy at the college level.