Server Costs Fundraiser 2021
Please help us pay for the servers and web services required to operate our non-profit organization's website. Any donation helps, no matter how small: If every visitor were to give only $1 we would be fully funded within a day.
Donate Now
Illustration
Send to Google Classroom:
About the Author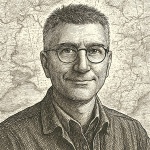 Simeon is a freelance visual designer with a deep interest in the human side of history. He believes that every image should be an interaction, a commentary, and a narrative, and every map should lead on an exciting journey of exploration and discovery.