Misunderstood, neglected, forgotten. The Städel Museum in Frankfurt, Germany is
rediscovering one of the star painters of the Italian Baroque in a landmark exhibition: GUIDO RENI. The Divine. In his day, Reni (1575-1642) was one of the most successful and celebrated painters in all of Europe, coveted by the most important patrons, including the Borghese Pope Paul V, the Duke of Mantua, and the Queen of England. In this interview, James Blake Wiener speaks to curator Dr. Bastian Eclercy about the exhibition and Guido Reni's brilliance as one the greatest artists of the Baroque era.
JBW: Dr. Bastian Eclercy, many thanks for speaking with me on behalf of World History
Encyclopedia (WHE). During his lifetime, Guido Reni was given the epithet il divino – this referenced his fame as an artist star who, aware of his skills, occasionally behaved like a diva. However, il divino also refers to his artistic themes and imagery: Reni was the painter of the divine par excellence. There was, however, a darker side to his personality – what can you share with us about that and his life in general?
BE: First of all, we are better informed about Reni's life than about most other Old Masters – thanks to the detailed biography published in 1678 by the scholar Carlo Cesare Malvasia of Bologna. That account also offers eloquent testimony to the painter's idiosyncratic and ambiguous personality: at once deeply religious and superstitious, fearful of women and full of love for his mother, tremendously successful on the art market and hopelessly addicted to gambling.
Particularly popular was Reni's signature motif, the "heavenward gaze", which has become synonymous with his style.
JBW: The enormous impact of Reni's art is omnipresent and reflected in the countless
variations of his depictions of the heads of Jesus Christ and Mary – with their upturned faces and heavenward gaze – reproductions of which still circulate widely as picture pull-outs in Roman Catholic prayer books today. What else should we know about Reni's profound effect on the religious iconography of the Baroque era?
BE: Reni was the painter of the divine. No other artist of the early modern period devoted himself as consistently to picturing the divine, searching for a visual equivalent to the otherworldly realm – a realm inaccessible to the human eye – and designing an aesthetic of paradise. For that reason, Guido's religious paintings were copied by innumerable artists already in his own time, inside and outside his workshop. Particularly popular was Reni's signature motif, the "heavenward gaze", which has become synonymous with his style and has found countless imitators.
JBW: I'm curious if you might offer a comment on the relationship between Reni and Denys Calvaert. Reni was initially trained by Denys Calvaert (1540-1619). Calvaert was a talented Antwerp-born mannerist painter, who lived in Italy for most of his life, where he was known as Il Fiammingo. When observing Reni's paintings, one is overcome by the power of his colors in addition to their advanced composition and form. Is this the legacy of Calvaert in Reni's compositions?
Reni usually leaves out every secondary detail and focuses completely on the
essential aspects of the topic.
BE: Guido spent about ten years in Calvaert's workshop; nevertheless, the latter's influence has often been played down. The Frankfurt exhibition includes four works by his master, two paintings and two drawings, that clearly demonstrate how important his training with Calvaert had actually been for him. He learned the technique of painting on copper from the Flemish painter, who specialized in small-scale devotional pictures; but also Calvaert's late-Mannerist palette, bright and colorful, echoes significantly in Reni's work.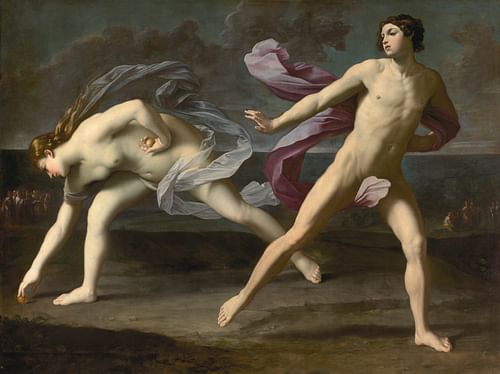 JBW: What would you say are some of the other fascinating aspects of Reni's art? Moreover, what is it that differentiates him from other notable, contemporary Baroque artists, like his erstwhile rival Caravaggio (1571-1610)?
BE: Guido's biographer Malvasia portrays him as a kind of "anti-Caravaggio." And indeed, the elegance and ideal beauty of his painting style contrast starkly with the Lombard's naturalism and dramatic chiaroscuro. Paradoxically, Reni nevertheless soon became a first-generation "Caravaggist," if only for a few years (c. 1604–06), and with a highly individual and selective interpretation of his fellow painter's art. He thus expanded his horizon substantially during his initial years in Rome. Characteristic of Reni's art in general is what I call "the principle of ingenious simplicity": in his compositions he usually leaves out every secondary detail and focuses completely on the essential aspects of the topic. That is what makes his paintings so succinct and easy to remember – a secret of his success in my view.
JBW: Dr. Eclercy, the exhibition brings together Reni's most beautiful paintings, drawings, and etchings for the first time in more than 30 years. Of the works on display at the Städel, which are the ones not to be missed in your estimation?
BE: I think apart from single masterpieces there are stunning groups of works that have been brought together for the very first time and now form memorable ensembles in the exhibition. Definitely not to be missed is already the first room gathering six Assumptions of the Virgin by Guido Reni from all periods. You can get an idea of his art at a single glance there. No less impressive is the first room on the upper floor called "Bologna's Naked Heroes: The Male Nude": it presents a substantial number of large-scale works in which he was repeatedly preoccupied with the male nude, sometimes in combination with its female counterpart.
JBW: Reni's reputation suffered in the 19th century and he no longer holds the place he deserves within the public consciousness. With that being said, if there's one thing that the public ought to know about Reni, what is it?
BE: I would say the public will learn in this exhibition that the 19th century was completely wrong in its verdict on Reni and that he is actually one of the greatest painters of the Baroque, not only in Italy, but all over Europe.
JBW: Dr. Eclercy, many thanks for lending your expertise, time, and consideration!
BE: Thanks a lot for your inspiring questions!
GUIDO RENI. The Divine runs at the Sädel Museum in Frankfurt am Main, Germany until
5 March 2023. Bastian Eclercy is the Head of Italian, French and Spanish Paintings before 1800 at the Städel Museum in Frankfurt and the curator of the exhibition.