World History Encyclopedia's main mission is to engage people with cultural heritage and to improve history education worldwide. We are achieving this through our definitions and articles, our videos and education resources, our audio articles and social media. Recently, we have updated our merch store so people can wear ancient history proudly, and this creative outlet as a way of sharing our passion for history is something that has truly seen a boom in the last few years. So, here are some of my favourite shops and artists that are creating new artworks based on ancient history, archaeology, and mythology.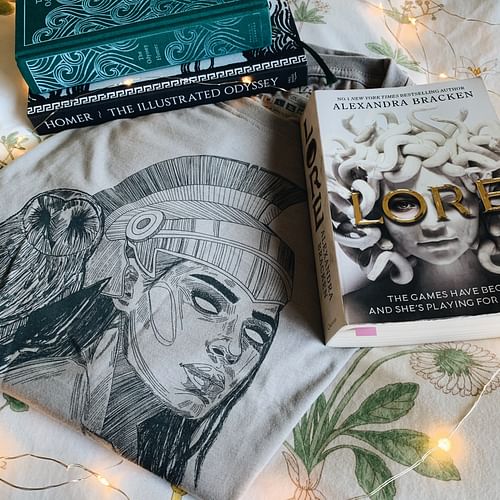 You may have seen our collaboration with this Canadian-based company on our social media earlier this year, APRICVS Clothing is a small business with big ideas. Najah Suojhayer has designed artworks based on characters from Greek and Roman mythology and put them on T-shirts and stickers. These gods include Apollo, Neptune, Pluto, Artemis, and Athena and for every T-shirt purchased, a tree is planted. If you want to wear your history, then the tees and sweatshirts created by Quill and Thread is another brilliant company that has taken inspiration from mythology, as well as ancient history, and philosophy.
If you are a fan of supporting artists on Redbubble and you are looking for some ancient-history-inspired artwork, look no further than Flaroh and ClassicsForPlebs (known as Attica). Flaroh has a range of artworks from covers of the ancient epics the Iliad and the Odyssey, to ancient pottery, gods and goddesses, and ancient landscapes. Attica has created colourful portraits of ancient orators, poets, and mythological figures, as well as Greek pottery and statues.
Looking to hang up some art inspired by mythological characters, ancient artwork, and artefacts? Aster and Selene run by Anna is a small shop on Etsy that showcases Anna's artistic prowess when it comes to illustrating ancient statues and pottery (the Minoan marine-ware pottery is my favourite). If you are looking for dynamic and truly irresistible depictions of gods and goddesses from Greek, Roman, Egyptian and Mesopotamian mythology, look no further than Yliade, an artist based in France. Brittany at Artistfuly and Emily at Hystorical Prints are both taking myth and antiquity into their own style and producing some beautiful work mostly focussing on portraits and depictions of women from history, and Greek tragedy.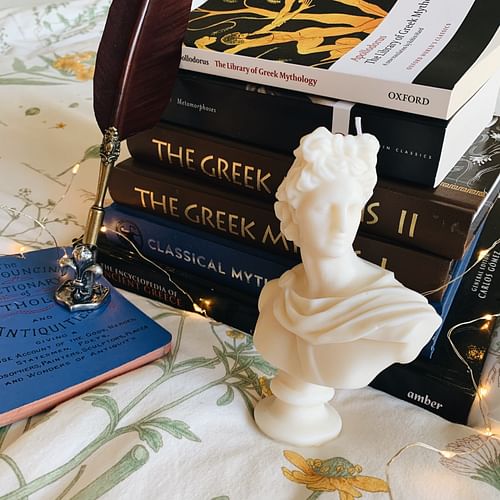 If you are a fan of candles, then look no further than the Melbourne-based Altar of Aphrodite, who have some beautiful candles in the design of Apollo, the statue of David and Venus in her seashell along with Greek busts which are simply stunning. Another Melbourne-based small business is Cosi's Odyssey who is letting everyone know how sexy the ancient world is, with some brilliant merch including pouches, tote bags, candles, puzzles, and sun caps. Looking for a company based in the UK? Then Classical Candle Co is where you want to look. Classical Candle Co are producing candles based on mythology, literature, and art and are all hand-poured in London.