The Montreal Museum of Fine Arts (Musée des beaux-arts de Montréal) is currently hosting the North American premiere of the exhibition Egyptian Mummies: Exploring Ancient Lives. Visitors can meet six mummies who lived in ancient Egypt from the Third Intermediate Period (1069-525 BCE) and to Roman Egypt (30 BCE - 395 CE) and learn about their lives, how they fit into society, and of course about how they died.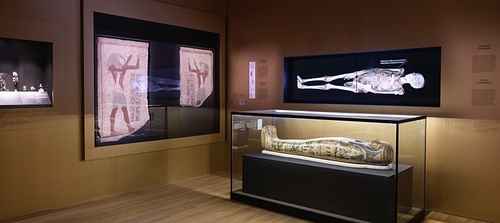 The exhibition focuses on recent research undertaken by the British Museum, which was able to scan the mummies in detail using non-invasive technology, revealing previously unseen detail on these mummies, how they died, and what they were buried with. It was quite impressive to see the work of the embalmers inside the mummy – where packets of organs had been placed, how the skull had been filled with resin, and what objects had been placed inside the mummy's linen wraps.
Very well-done videos give background information on the mummies, such as what illnesses they suffered from, what diet they lived on, and what techniques the embalmers had used to mummify them. Combining physical anthropology, Egyptology, and scientific research, this exhibition gives the visitor a deep understanding of these six individuals and the Egyptian culture they evolved in.
In addition to the six mummies, the exhibition features over 240 objects and explanatory panels to further explore Egyptian burial, culture, and society. If you come to Montreal before 2 February 2020, go see this exhibition! Tickets are CAD 24 for regular entry, CAD 16 for ages 21-30 and CAD 12 on Wednesday nights.
The six mummies are:
Nestawedjat, Lady of the House
Her title "lady of the house" indicates that she was a married woman, probably from Thebes. She lived during the Third Intermediate Period of Egypt, c. 700-680 BCE. Her name Nestawedja means "the one who belongs to the wedjat eye", which is also known as the Eye of Horus, a symbol of protection and healing. She was probably between 35 and 49 years old at the time of her death, and she suffered from spinal lesions.
Tamut, Chantress of Amun
Tamut was a middle-aged woman who was a chantress of Amun during the Third Intermediate Period (c. 900 BCE). Inscriptions on her case identify her as the daughter of Khonsumose, a priest of Amun. Based on her family status, she would have taken part in rituals at the temple of Karnak, the most important religious complex at Thebes (modern-day Luxor). CT scans reveal many amulets and ritual objects that were placed on her body underneath the wrappings, which were believed to have magical powers to protect the deceased and help her gain immortality.
Irthorru, Priest of Akhmim
This middle-aged man lived in the town of Akhmim, about 200 km north of Thebes, during the Late Period of Ancient Egypt. He was a priest in charge of Akhmim's temple, in charge of dressing the god Min, and master of secrets. His mummy bears witness to a life spent in service of the gods as well as the power that priests of his rank held in ancient Egypt. His body was mummified with several amulets (such as a wedjat eye on the back of his head) to protect him and ensure safe passage to the Field of Reeds.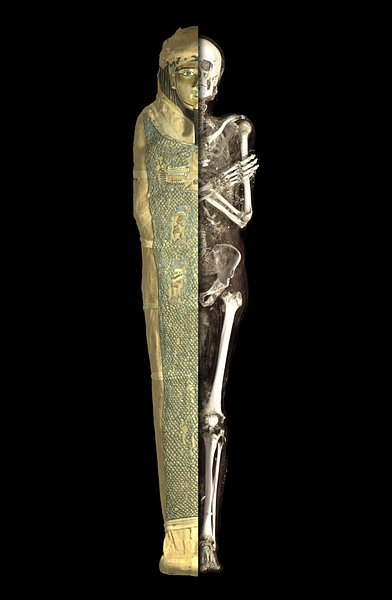 Temple Singer from Thebes
We do not know her name, but we know that this middle-aged woman was a priestess; a singer of the interior of Temple of Amun. She lived in Thebes around 800 BCE and probably worked at the temple of Karnak. She suffered from various dental problems and is missing a front tooth.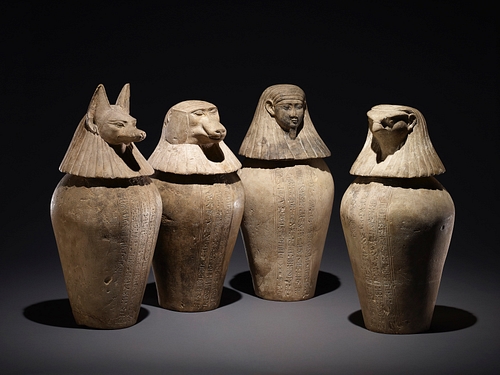 Young Child from Hawara
This unnamed child died 40-60 CE during the Roman period at the tender age of only two years. In ancient Egypt, few children appear to have been mummified, but during the Roman period, more child mummies have been discovered. The boy's ribs and spine were damaged, possibly during mummification, but his body was wrapped with great care in many layers of bandages. His gilded and finely decorated cartonnage mask suggests that he came from an elite family. An extremely well-preserved child's tunic displayed alongside this mummy is particularly impressive!

Young Man from Roman Egypt
This young man was only 17-20 years old when he died, probably in Thebes, around 140-180 CE. Mummification continued during the Roman period, but the techniques and styles had changed. Wooden panels bearing pictures of the deceased were placed over the head of the mummy, known as "mummy portraits". This man's lifelike portrait appears like a photograph from 2,000 years ago, showing a handsome young man with dark curly hair and thick eyebrows. In contrast to the handsome picture, CT scans have shown that he was overweight and suffered from tooth decay, possibly evidence of a diet rich in sugar and starchy foods.
Egyptian Mummies: Exploring Ancient Lives is at the Montreal Museum of Fine Arts until 02 February 2020.