The best way to learn ancient history is not by memorizing dates and facts but, rather, through critical thinking and analysis. When studying ancient history, the key is to make inferences, using empathy and evaluation to alter one's perspective. This is the fundamental reason why educators use primary sources in the classroom. In a world of attending lectures, taking tedious notes, and doing library research, whenever there is an opportunity for hands-on experience, it is crucial that we jump on the chance to seek it out. These materials from ancient times are much more accessible than most people think.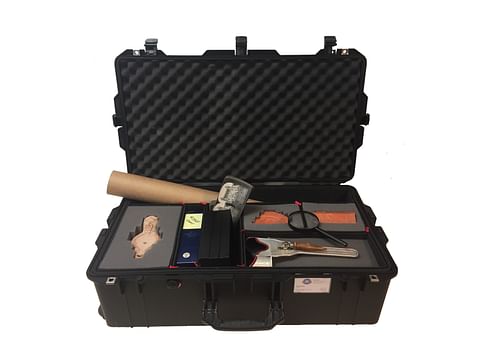 AIMS & Methods
The History in Your Hands Foundation is a non-profit group that provides educators and their students with authentic historical artifacts and pieces to utilize in the comfort of the classroom. By providing antique maps, ancient coins, and various antiquities to teachers, existing lesson plans are accompanied by a fresh perspective. The students are encouraged to examine, touch, and hold these objects, using the senses to learn in a heightened way.
The students are encouraged to examine, touch & hold these objects, using the senses to learn.
At the beginning of the project, the HIYHF team members actively brought all sorts of historical pieces into the classrooms, to get a live look into how the students interact with the materials. Right away the team noticed how immediately engaged the students were, deducing that they were in for a mix-up from their everyday lesson. Once introduced to the objects and encouraged to use their hands to touch, hold, and feel the materials, the students can feel themselves being transported back in time.
The activities vary with age groups but the experience remains the same. The team has eyewitnessed the benefits of hands-on learning, with plenty of teacher testimonials to back them up. One particular 4th-grade teacher, Colin Fahey said about the visit: "It was a unique and engaging experience to have our homeroom turned into an interactive museum for that afternoon." The effects of exposure to hands-on learning within a classroom setting are said to benefit all different types of learners, increasing problem-solving ability and enhancing other crucial skills. When you are able to experience a piece of history first-hand, you are able to connect with it on a deeper level. Opening up the senses and identifying with the past allows students to analyze and think critically in a way a textbook never can.
Custom boxes
With a current focus on ancient history, the organization has put together a number of collections that are available on a rental basis. Teachers simply contact the organization via its website and are able to apply to have a Traveling Classroom History Exhibit sent directly to their school. For example, if your current spotlight in the classroom is the world of ancient Egypt, the History in Your Hands Foundation can help to design a custom box containing pieces that highlight the topic. With plenty of flexibility, the team at the helm of HIYHF works collaboratively with educators to best suit their needs. A few featured pieces to serve as classroom tools highlighting ancient Egypt are shown below:
This piece is a fragment of cartonnage, or heavy layered papyrus and plaster, used in the process of mummification. The decorative and colorful scene depicts a baboon, in the ceremonial weighing of the heart.
This is a terracotta oil lamp with orange clay and dull orange slip. It features a hollow handle in the form of a gorgon's head. This is a decorative example of the type of oil lamp that was used to light one's home.
This map of Egypt with information from ancient times is labeled in Latin. It shows the course of the Nile from Ancient Ethiopia and Philae all the way to the Mediterranean Sea. Place names from Hellenistic times appear in addition to Arabic ones. A legend provides a translation of Arabic geographical terms and explains the symbols indicating such landmarks as castles, monasteries, mosques, ruins, and cities, and spells out abbreviations used.
A new way of learning
The History in Your Hands Foundation sets out to accomplish several goals at once through this new pilot program. The Traveling Classroom History Exhibit is a versatile and reusable resource for educators which serves to fill the void a standard brick-and-mortar museum cannot, hands-on access to the materials.
What is the number one thing you are told every time you visit a museum? Probably "Quiet please", or "No photographs" and most definitely "Do not touch!" Field trips are often distracting and disengaging, students focused on being out of school, not on the boundless learning opportunities. But if the setting is a pre-existing comfort zone, like the everyday classroom, and the students are allowed to be hands-on, then the potential for learning breaks through the glass ceiling.
The Traveling Classroom History Exhibit is a versatile & reusable resource which serves to fill the void a standard brick-and-mortar museum cannot, hands-on access to materials.
Beyond that, there is always the problem of school funding. The Traveling Classroom History Exhibit is loaned out to a school for a number of days, in which educators are able to maximize its usefulness. In a three-day period, a crate of antiquities and primary sources could easily visit a dozen classrooms to be utilized across grade levels and subject matters. This allows for several hundred students to access the material and use it for critical thinking and analysis.
Once the box full of source material arrives at the school, the background research is already done for the teachers. Although the HIYHF team are not licensed educators, their expertise lies in the materials themselves. This allows teachers to spend their time building activities or lesson plans instead of time-consuming research. The boxes are in a sense "pre-curated" so that each individual object within serves as an important learning tool. Furthermore, this program encourages educators to be creative in building lessons and activities surrounding the objects themselves. Moving forward, with its blossoming partnership with the education team at Ancient History Encyclopedia, teachers may select from a repository of existing classroom activities.
With the exciting prospect of all these things to look forward to, the History in Your Hands Foundation is currently building up its calendar for the Fall 2018 semester. Meanwhile, they are actively fundraising to provide this service to classrooms at no cost to the educators themselves. Everyone is encouraged to visit their website, Facebook page, or current GoFundMe fundraiser. If you are interested in learning more about their group, they are always available via email.
If all history enthusiasts cooperate to make these awesome tools and resources more and more available, education of the subject can only flourish.