Video
Send to Google Classroom:
The Greek goddess Artemis was the goddess of the hunt, wild nature and the moon in Greek mythology. She was the daughter of Leto and Zeus, and the twin sister to Apollo, the god of the sun, medicine and music among others. Artemis was a patron to young girls, a protector of childbirth, the goddess of chastity and fertility, and she chose to remain a maiden much like the goddesses Athena and Hestia.

As a deity of fertility, Artemis was worshipped primarily at Ephesus, close to where she was believed to have been born at Ortygia. Construction of the Temple of Artemis at Ephesus was begun in around 550 BCE and was considered one of the Seven Wonders of the Ancient World. Artemis was also worshipped on the Island of Delos, the other potential birthplace of the twins, and at Tauris, Magnesia, Perge and Brauron. In Mythology, Artemis is known from a number of stories, most notable from the stories of Iphigeneia, Orion, Callisto, Niobe and the Calydonian (or Kalydonian) Boar.

— ATTRIBUTIONS —
You can find all attribution and credits for images, animations, graphics and music here - https://worldhistory.typehut.com/artemis-goddess-of-the-hunt-and-the-moon-in-greek-mythology-images-and-attributions-4505

The music used in this recording is the intellectual copyright of Michael Levy, a prolific composer for the recreated lyres of antiquity, and used with the creator's permission. Michael Levy's music is available to stream at all the major digital music platforms. Find out more on:
https://www.ancientlyre.com
https://open.spotify.com/artist/7Dx2vFEg8DmOJ5YCRm4A5v?si=emacIH9CRieFNGXRUyJ9
https://www.youtube.com/channel/UCJ1X6F7lGMEadnNETSzTv8A

— THUMBNAIL IMAGE —
https://en.wikipedia.org/wiki/File:Apollo_Artemis_Brygos_Louvre_G151.jpg
Marie-Lan Nguyen
Public Domain
About the Author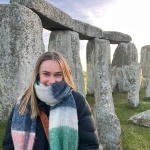 Kelly is a graduate from Monash University who has recently completed her BA (Honours) in Ancient History and Archaeology, focussing on iconography and status in Pylos burials. She has a passion for mythology and the Aegean Bronze Age.