Video
Send to Google Classroom:
A short video shot by Osama Shukir Muhammed Amin at the Iraq Museum in Baghdad on March 14, 2019. The video showcases the Mask of Warka, the Warka Vase, and the throne-dais of the Assyrian king Shalmaneser III.
About the Author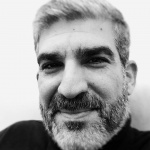 Associate Professor of Neurology and lover of the Cradle of Civilization, Mesopotamia. I'm very interested in Mesopotamian history and always try to take photos of archaeological sites and artifacts in museums, both in Iraq and around the world.