Navigation
Biography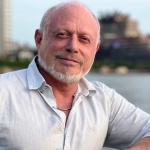 I'm a LGBTQ+ Emmy-nominated Executive Producer and storyteller who has helped develop, oversee, write and produce over 1,000 hours of non-fiction series and films for US and UK television, mostly in the historical/archeology genres. Clients have ranged from Discovery Channel to A&E, History, PBS, BBC, Channel 4, Animal Planet and National Geographic.

Currently, I'm overseeing projects for both Discovery and Science Channels, including blue chip series Expedition: Deep Oceans and "Walking With Ancients," highly-rated shows such as Mysteries of the Abandoned and Unearthed, and upcoming films Tut's Lost City Revealed, Forgotten World of the Amazon and Final Secrets of the Valley of the Kings.

I am also novelist, having just completed my second manuscript Overland, which follows a small town American mailman on a journey across the Hippie Trail of Turkey, Iran, Afghanistan and India-- thirty years too late.
Analytics
729 pageviews on this user's contributions