Review
| | |
| --- | --- |
| Rating: | |
| Title: | The Good Kings: Absolute Power in Ancient Egypt and the Modern World |
| Author: | Cooney, Kara |
| Audience: | General Public |
| Difficulty: | Medium |
| Publisher: | National Geographic |
| Published: | 2021 |
| Pages: | 400 |
"The Good Kings," by UCLA Professor of Egyptian Art and Architecture Kara Cooney, is a rare history book that speaks not only of the past but how two seemingly distant and disparate eras - ancient Egypt and the modern world - are more similar than what we might admit. Written for the general audience who is aware of what is happening in society today and not afraid to have their ideals challenged, this book explores five infamous pharaohs - and their modern-day counterparts.
We may not always know why we are drawn to a bygone era or long-dead personality, but once hooked, the well rarely runs dry. Perhaps the reason, for many, is simple escapism. The vanished worlds and characters of the past draw us in precisely because they seem so unlike our own. But, as Kara Cooney's The Good Kings: Absolute Power in Ancient Egypt and the Modern World points out, far more connects us to these distant times than we dare to imagine – or admit.
This book challenges readers to rethink their perceptions of well-known rulers in history.
In the introduction to her third book on pharaonic history, Cooney, Professor of Egyptian Art and Architecture and Chair of the Department of Near Eastern Language and Cultures at the University of California, Los Angeles, outs herself as a "recovering Egyptologist." Much of what once drew her to ancient Egypt, she confesses, now repels her. To her, nothing showcases the dangers of absolute power then and now more explicitly than the pharaonic rule. To illustrate this, she profiles five kings, from the Old Kingdom's Khufu, who forced a nation to build him a pyramid so massive it remains the only Seven Wonders of the Ancient World still standing, to "monotheist" Akhenaton, who was either the world's original Moses or, in Cooney's position, a megalomaniacal despot and cult leader, and to Hollywood's favorite god-king, Ramesses the Great, the resplendent, self-aggrandizing politician who peacocked his way into history. Today, thousands of years after their corpses were pickled and entombed, we idolize these men as larger-than-life leaders who brought order to a chaotic and otherworldly landscape. But Cooney turns the lens of history back on us to ask: "Why do we still buy their hype?" The reason, she posits, is because we are still a society ruled by bullies, riven by toxic masculinity, and eager to believe in a rich and powerful patriarchy that knows us better than ourselves. In other words, very little has changed.
Over the next five chapters, compelling examples are cited. Khufu is likened to Joseph Stalin; the Middle Kingdom pharaoh Senwosret III to Harvey Weinstein; Akhenaten to Jerry Falwell, Jr.; Ramesses II to Donald Trump; and the Late Period king Taharqa to Robert Mugabe. Whether the reader agrees with every comparison or not, in an age where it is "safer" to avoid uttering opinions that may offend opposing sensibilities, Cooney refuses to remain detached – or worse, "stay in her lane" – and is not afraid to express her own social beliefs.
The result is a 400-page history book bursting with characters, controversies, and enough food for thought to stock the afterlife. As Cooney persuasively remarks in her opening chapter: "The truth is, we think modern societies, in which leaders are voted into power, are different from ancient kingships. But all we do today is hide our desires for a king from ourselves."
Written for the general audience, this book challenges readers to rethink their perceptions of well-known rulers in history. One should not hastily dismiss this book as driven by the author's personal beliefs. The Good Kings is first and foremost a history book, rich in archeological detail and little-known facts about the rise and fall of the world's first superpower. It comes with 25 pages of generous footnotes and sources as well as 16 full-color pages of artifacts of its featured kings and their time periods. Also included is a map of the Nile indicating where each pharaoh lived, built, and died. In addition, the book contains a chronology of all the Egyptian epochs, from the Predynastic Period (5300-3000 BCE) to the Roman conquest and rule from 30 BCE to 395 CE.
Buy This Book
$17.99
By purchasing books through this website, you support our non-profit organization.
World History Encyclopedia is an Amazon Associate and earns a commission on qualifying book purchases.
About the Reviewer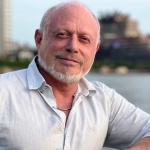 Neil Laird is an Emmy-nominated producer-director of historical films. His work, which focuses largely on the ancient world, has appeared on the Discovery Channel, National Geographic, BBC, The Science Channel, Channel 4, PBS and many other networks.