Navigation
Biography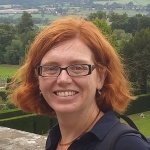 I have over 20 years of experience of working with young people across borders and cultures, covering a spectrum of topics, issues, needs, languages and ages. Having worked in voluntary sectors, providing non-formal educational programmes for almost 15 years, in 2016 I decided to embark on an adventure of teaching and to my overwhelming surprise, I have since learnt to love it. I teach AS and A Level Psychology at a sixth form in East Anglia.
I have two Master Degrees: one in Political Science awarded by Wroclaw University, Poland; the second one in Youth and Community Studies from Brunel University, UK. I have also completed PGCE in Education (FE) at Greenwich University. The formal education is combined with a comprehensive non-formal and informal in-job training gained in three countries. A possibility and probability of starting a PhD is (very) slowly materialising.
I love studying history - it anchors me, gives me distance and depth of understanding and helps me make sense of current reality. It challenges me and at the same time offers me a sense of comfort.
Analytics
3,933 pageviews on this user's contributions