Navigation
Biography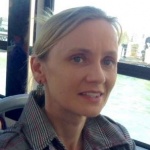 I've gotten my love of history from my father. He often puts on exhibitions and has gives talks about Irish men who served abroad during World War One.

Although I loved researching the history of these men, I have more of an interest in researching the history of artefacts, especially ones which have been recently found but could be 1000s of years old. After receiving an Honours Degree in Applied Cultural Studies, I went on to receive an MA in Archaeology and Heritage with the University of Leicester. I did this through distance learning while working as an intern at the Louth County Museum.

I absolutely loved researching the history of the different collections here so was delighted when I started working as a researcher at the 'National Museum of Ireland: Archaeology', which is home to the most impressive archaeological collections in Ireland.

Writing is another love of mine and after working as a content executive for 3 years, but not specialising in history, I love joining my two passions together.

Analytics
18,468 pageviews on this user's contributions