Navigation
Biography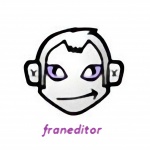 TRANSLATOR / EDITOR / PROOFREADER / GHOSTWRITER / TRANSCRIPTIONIST

franeditor.com

Hello,
I am a professional translator / editor / proofreader / ghostwriter / editor / transcriptionist,
with excellent language skills, both in Italian and in English.

I can do any type of writing, and I am available for every literary genre.

I am quick, punctual, available and accurate (my text will be definitive, it won't need any editing).

My fields of expertise are as follows:
Medicine ~ Law ~ Science ~ Religion ~ History ~ Literature

In my website, https://franeditor.com, You'll be able to find some examples of my work, as well as my résumé.

Thank You for Your time and consideration.
Analytics
5,907 pageviews on this user's contributions