Navigation
Biography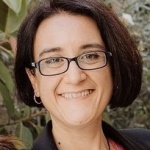 I am a freelance translator. I graduated with a bachelor's degree in Linguistic Mediation at the SSML Centro Masterly in Palermo, where I studied interpreting and translation for the English and French languages.
I am interested in history and I am particularly fascinated by the Indian culture.
I also have a passion for informatics, music and of course languages. Apart from English and French, I studied German and, on my own, Norwegian and Hindi.
As a translator I am dedicated, accurate and I love what I do.
Analytics
130 pageviews on this user's contributions