Navigation
Biography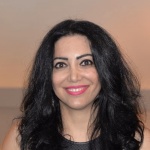 Rawan Al Adwan is a fine artist Born and raised in Jordan , residing in London, UK since 2012,where she is currently active in the world of art, culture and media.
her inspiration stemmed heavily from her rich and mystical Jordanian cultural heritage. She was inspired by her Bedouin roots which play a role in her expression as an artist. Surroundings of exotic and historical landscapes and ancient monuments .
she has had four solo exhibitions in Amman/Jordan,mini solo exhibition in London 2017 and solo exhibition in Italy at the primitive Art Gallery 2018 and has participated in various exhibitions within Jordan, Kuwait, UAE, Austria, Italy, California and London.

Rawan is a member of the House of Lebanon foundation in California, The Jordanian Artist Union and the Women World Peace Federation.
She was awarded as an Ambassador of peace in 2015 .
She has worked in the Queen Alia Fund for Social Development, Prime Ministry of Jordan, the Jordanian National Museum and the Political Museum.

She relocated to London in 2012 and has since participated in group exhibitions with Fitzrovia gallery/Frieze Art fair, Parallax Art fair and Konooz auction at the Intercontinental Hotel, Park Lane and with caravan organizatio /I am touring exhibition at Jordan museum,Saint Martin /London,washenton DC university from 2017 to 2018, Windsor contemporary Art Fair 2018.
Her artworks express the magnificence of the cultural heritage of the Levant with a contemporary twist. Most of the time she merge reality with imagination and memory. She creates paintings that express the beauty of ancient societies which are in continuation of the present.
Her paintings are inspired by the ancient inscriptions and drawings discovered on old basalt volcanic stones in the Middle East. These drawings were created by the Safawi people that inhabited the desert in 1000B.C in Jordan. My artwork reflects the spirit of this primitive art while allowing and respecting its freedom to also become contemporary art in the 21st century. My artistic objective is to breathe life into forgotten ancient societies and their values, through create paintings in primitive tribel style with contemporary twist.
In the Middle East, women have always been the primary contributors in our communities toward healing our world, from early times to the present. Their inherent connection to the sanctity of life, and their ability to nurture and protect it ,as a female artist she aims to increase awareness about endanger ancient Safiatic inscriptions through arts.
Analytics
323 pageviews on this user's contributions