Review
| | |
| --- | --- |
| Title: | Lugalbanda: The Boy Who Got Caught Up in a War: An Epic Tale From Ancient Iraq (Aesop Prize (Awards)) |
| Author: | Henderson, Kathy & Ray, Jane |
| Publisher: | Candlewick |
| Published: | 2006 |
| Pages: | 80 |
Lugalbanda: The Boy Who Got Caught Up In A War is a fine re-telling of the ancient tale by Kathy Henderson with beautiful illustrations by Jane Ray. The fly leaf of the book states, "Older than the Bible, the Torah, and the Koran, the tale of Lugalbanda speaks to us in a startlingly fresh voice across nearly five thousand years of history" and this is certainly true. The story of the young prince who helps save his city of Uruk is timeless and this version is especially well done. Though a children's book, with large print, a reader of any age will enjoy this work even if one is not especially interested in Mesopotamian literature. Highly Recommended.
Buy This Book
$44.26
plus shipping
By purchasing books through this website, you support our non-profit organization. World History Encyclopedia receives a small commission for each book sold through our affiliate partners.
About the Reviewer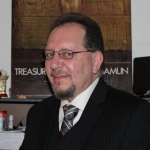 A freelance writer and former part-time Professor of Philosophy at Marist College, New York, Joshua J. Mark has lived in Greece and Germany and traveled through Egypt. He has taught history, writing, literature, and philosophy at the college level.