Review
| | |
| --- | --- |
| Title: | Ancient Mesopotamia (How'd They Do That in) |
| Author: | Elizabeth Scholl |
| Publisher: | Mitchell Lane Publishers |
| Published: | 2009 |
| Pages: | 64 |
Elizabeth Scholl's work Ancient Mesopotamia is an excellent introduction to Mesopotamian civilization for children. Part of the How'd They Do That In...? Series, Scholl's book begins with a story of a young girl named Kammani going to visit the doctor in the ancient city of Ur. The story is fictional but the details presented are historically accuracte. Following the story a reader is introduced to the system of government, home and family life, schools, types of food and festivals, and important figures such as Gilgamesh and Enheduanna. There is a section at the end where one may learn to write in cuneiform, view a timeline, and look through works consulted and works for further reading. The illustrations throughout are colorful and engaging, the prose is clear and interesting, and the history presented is accurate and accessible. Highly recommended for young readers or for anyone who wants a quick and enjoyable introduction to ancient Mesopotamia.
Buy This Book
$17.47
plus shipping
By purchasing books through this website, you support our non-profit organization. World History Encyclopedia receives a small commission for each book sold through our affiliate partners.
About the Reviewer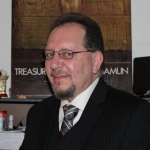 A freelance writer and former part-time Professor of Philosophy at Marist College, New York, Joshua J. Mark has lived in Greece and Germany and traveled through Egypt. He has taught history, writing, literature, and philosophy at the college level.