Review
A History of the Ancient Near East ca. 3000-323 BC by Marc Van De Mieroop is an excellent resource for anyone interested in the region of ancient Mesopotamia. His writing style is very accessible and the chapters are carefully constructed to provide a reader with a comprehensive understanding of the subject under consideration. Regarding the rise of the Neo-Assyrian Empire, for example, the author goes into great detail regarding the political and social climate of the period of the 8th century BCE. An excerpt:
References to warfare against tribal groups are plentiful in other texts [besides the letters of Borsippa]. Parts of the anti-tribal rhetoric, accusing them of purely hostile and destructive behavior, probably resulted from the usual megative attitude toward newcomers of the residents of ancient cities. But the highly unstable nature of the period and its warlike character cannot be denied (212).
The book explores the history of Mesopotamia through an examination of the rise of the cities and contribution to the formation of states and culture. The three sections are The City States, Territorial States, and Empires with between four and six chapters to each section. By the end of the book, a reader has a very comprehensive knowledge of the subject while also enjoying the work of a talented writer and historian. Highly recommended.
Buy This Book
$72.84
plus shipping
By purchasing books through this website, you support our non-profit organization. World History Encyclopedia receives a small commission for each book sold through our affiliate partners.
About the Reviewer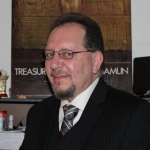 A freelance writer and former part-time Professor of Philosophy at Marist College, New York, Joshua J. Mark has lived in Greece and Germany and traveled through Egypt. He has taught history, writing, literature, and philosophy at the college level.