Review
| | |
| --- | --- |
| Rating: | |
| Title: | The Van Buren Sisters vs. the Pants Police (Head-to-Head History) |
| Author: | Fox, J. F. & Kwan, Anna |
| Audience: | Young Children |
| Difficulty: | Easy |
| Publisher: | Kids Can Press |
| Published: | 2023 |
| Pages: | 40 |
An inspirational children's book on the famous transcontinental motorcycle trip by the Van Buren sisters across the United States from New York to California in 1916, this work will engage readers of all ages through its crisp, lively prose and colorful illustrations.
The Van Buren Sisters vs. The Pants Police, by J. F. Fox, illustrated by Anna Kwan, is an informative, entertaining, and historically accurate children's book that is sure to be a hit with history afficionados but also engaging for anyone, regardless of their interest in past events. The book tells the story of Augusta and Adeline Van Buren, relatives of Martin Van Buren (8th President of the United States), who traveled across the country from Brooklyn, New York to San Francisco, California in 1916 to prove that women could serve in the U.S. military as dispatch riders.
Women were not allowed to serve in the military at this time and, although the United States was not involved in World War I yet in 1916, that possibility was on the horizon. The Van Buren sisters believed that women could serve their country as well as men, not in combat, but as dispatch riders carrying messages between posts on motorcycles.
Although the Women's Suffrage Movement in the United States had been gaining momentum since the 1848 Seneca Falls Convention, women still did not have the right to vote, were essentially second-class citizens, and were expected to behave – and dress – according to traditional feminine roles. The Van Buren sisters, however, were not raised that way. Referring to Augusta as "Gussie" and Adeline as "Addie" in the book, J.F. Fox writes:
Addie and Gussie's mother died when they were quite young. Their father, Frank, raised the girls and their brother, Albert, to be confident, competitive, and capable, and to share his love of sports. Addie and Gussie were skilled at many sports – skating…swimming and diving…even boxing. By 1913, a new century had come roaring in, and for Addie and Gussie a new favorite sport reigned supreme – Motorbiking!
At this time, women were wearing cumbersome dresses, most comprised of multiple petticoats, which were their only socially acceptable form of clothing. Even though Amelia Bloomer had introduced the "Turkish pants," later known as "bloomers," to society in 1851, a woman wearing pants – which were considered "men's clothing" – was viewed as scandalous. Augusta and Adeline had no time for this kind of nonsense, however, and wore pants when riding their motorcycles. When they decided to embark on their trip across the United States, they wore leather pants and coats simply for ease of travel (and safety) in riding a motorcycle.
They were repeatedly stopped, and sometimes arrested, for wearing men's clothing, but, each time, they pressed on. They were the first women to reach the summit of Pikes Peak by motor vehicle and were the third and fourth women to travel on a motorcycle across the United States; the first woman to do so was Effie Hotchkiss in 1915, accompanied by her mother, Avis, in a sidecar.
The Van Buren sisters followed the same route as Hotchkiss but received far more hostility simply because of how they were dressed, and this aspect of their trip is the focus of The Van Buren Sisters vs. The Pants Police. No matter how many times the sisters were stopped, they refused to comply with the patriarchal decree that women were not allowed to dress like men or engage in the kinds of activities associated with males.
J.F. Fox presents the story clearly for a reading audience of 5-8 years old, enhanced by Anna Kwan's excellent illustrations, offering an audience a uniquely enjoyable ride through the sisters' story. The book is published by Kids Can Press and is part of the Head-to-Head-History series. The series includes another fine title by Fox and Kwan, Napoleon vs. The Bunnies, relating the little-known event in 1807 when Napoleon Bonaparte was frightened by a bunch of hungry tamed rabbits. Both books are available on Amazon – The Van Buren Sisters for $14.53 and Napoleon for $13.99 – and are highly recommended.
About the Reviewer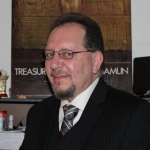 A freelance writer and former part-time Professor of Philosophy at Marist College, New York, Joshua J. Mark has lived in Greece and Germany and traveled through Egypt. He has taught history, writing, literature, and philosophy at the college level.