Review
| | |
| --- | --- |
| Rating: | |
| Title: | On the Way to the ""(Un)Known""?: The Ottoman Empire in Travelogues (c. 1450-1900) (Studies on Modern Orient, 36) |
| Author: | Gruber, Doris & Strohmeyer, Arno |
| Audience: | Professional |
| Difficulty: | Hard |
| Publisher: | De Gruyter |
| Published: | 2022 |
| Pages: | 450 |
This edited volume includes useful essays for specialist readers on the Ottoman Empire's travel literature. This book is a worthwhile read for its exploration of texts beyond the European tradition and for its utilization of novel literary and historical analysis methods.
Some people like to believe that the Ottoman Empire was Europe's ultimate "other." Several European nations, not least the Serbs and the Hungarians, consider themselves those who held the Ottomans at bay. Some still consider the two sieges of Vienna as a pivotal moment in which the borders of Europe could suddenly contract. On the Way to the "(Un)Known"? explores not how the Ottomans "encroached" Europe but how a wide array of people reported back on their experiences in Ottoman territory.
This volume will be best enjoyed by historians with previous knowledge of travel
literature
.
The 18 essays in the volume are surely geared toward specialists. The contributor Michael Harbsmeier's essay on the value of comparative analysis draws on decades of writing about travelogues. As such, it proposes new research directions. Some of his suggestions are already applied in this volume: two essays explore distant reading and digital methodologies. All contributors demonstrate the wisdom accrued over the decades. They know better than believing travelers who claim to report factually and unbiasedly, and they know all authors fall within genre conventions. Yet, they also eschew the wrong assumption that travelers to the Ottoman Empire all fell within the same genre.
Indeed, one of the volume's strengths is its diversity. Studying texts by Chinese pilgrims as much as Habsburg diplomats, the essays demonstrate the varying circumstances that shaped what contemporaries knew about the Sultan's well-protected domains. In the 19th century, the Chinese scholar Ma Dexin, studied in this volume by the contributor Alexander Jost, wrote about a journey many thousands of Muslims made yearly. Jost rightly notes that hajj travelogues are more extant in the Balkans and the Levant (or, in other words, within Ottoman territories) than in Africa or China. Ma Dexin's text was rather singular. It was printed and reprinted, serving not only as a report about faraway lands but also as practical guidance and encouragement for further pilgrims. Travelogues, thus, are not only a source of entertainment or theoretical education. They both reflect and change the world.
The contributor Volker Bauer's essay on a series of books published by a single German publisher in the early 18th century shows how travelogues became sources of information. These books introduced faraway countries to the German reader. Publications about the Ottoman Empire, Mongolia, Persia, or Japan from the city of Halle an der Saale required a careful reading of travelogues. Bauer studies previous authors' adaptations of the travelogues and their methods of assessing and communicating reliability to their readers. Sources of inspiration are also studied by the contributor Stefaniia Demchuk, who seeks not to undermine the memoirs of a Russian diplomat as much as to shed light on what informed his experience in the Ottoman Empire other than his own eyes.
The two editors, Doris Gruber and Arno Strohmeyer, are experienced scholars of Ottoman history. Gruber is affiliated with the Austrian Institute of Sciences while Strohmeyer is Professor of Modern History at the University of Salzburg. Not many essays in the volume contain images, but all essays do provide comprehensive footnotes for further reading and research.
This open-access volume will be useful for specialists and readers interested in any of the primary sources it covers. The essays are short and quick to read – but that is also their limitation. The volume, born out of a conference, is somewhat raw. Its papers are brief, so several key analytical points remain underdeveloped. Some papers repeat the theoretical background assumed by the volume; this wastes space that could have been used for a deeper case study. Others sketch a theoretical apparatus that adds nuance to issues unfamiliar even to the educated reader. Thus, this volume will be best enjoyed by historians with previous knowledge of travel literature. The general reader could use its free online availability for background reading on specific sources they are interested in.
Buy This Book
$111.50
free shipping worldwide
$101.60
plus shipping
By purchasing books through this website, you support our non-profit organization. World History Encyclopedia receives a small commission for each book sold through our affiliate partners.
About the Reviewer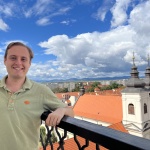 Orel Beilinson is a historian of modern Europe and Eurasia at Yale University. He is particularly interested in social stratification, education, and the family in the nineteenth and twentieth centuries.