Review
| | |
| --- | --- |
| Rating: | |
| Title: | |
| Author: | Anonymous |
| Audience: | Professional |
| Difficulty: | Medium |
| Published: | 1970 |
A wonderful and intellectual read, this book is an engaging look at medieval Japan through the eyes of both a modern historian and a common citizen living in the city of Ichijōdani before its destruction. This book balances enjoyability and history education without, at any point, being dry or dull. One can confidently recommend this book to both refined scholars and history enthusiasts.
Although this is a wonderful read for anyone having a deep infatuation with Japanese history, it mostly appeals to a scholar or a reader who is somewhat familiar with the topic. This, however, should not discourage any passionate readers from attempting this book. Its language style and structure are straightforward. This book looks at Japanese history through the eyes of the author Morgan Pitelka and a common citizen living in the medieval Japanese city of Ichijōdani.
Pitelka avoids tediousness by using fluid language and vibrant imagery while still maintaining an educational and academic stance.
Pitelka's Reading Medieval Ruins contains nothing too logically complex to grasp. On the other hand, it deals with very specific subjects that a person looking for a general overview of Japanese history may not know the meanings or contexts of. An example of this is probably Pitelka's discussion on medieval Japanese medicine. It is an intriguing yet niche topic. Pitelka starts the discussion on medicine without providing much background information. From another perspective, regardless of whether one chooses to read it on its own or not, this book is a fascinating examination of a plethora of topics in a very tumultuous time in Japanese history.
This period in Japanese history - the 16th century - saw a series of warring states fighting to unite the islands of Japan. This battle was ultimately won by the Oda Clan, who unified the majority of Japan under the emperor Oda Nobunaga. The 16th century also saw the rise of many Japanese cultural hallmarks, such as the samurai mores, the traditions of the katana sword, and the Samurai Palace of Himeji. In six chapters, this book offers wonderful insights into all of these topics from the perspective of urban Japanese folktales, an especially enticing prospect considering the obscure nature of validated civilian accounts of historical events. The 30 graphs, tables, and figures in this book also help Pitelka to meaningfully and visually present the city of Ichijōdani.
Pitelka creates the perspective of a commoner during 16th century Japan using archaeological findings. This gives the book a quasi-oral history atmosphere. Readers will feel as if a witness from the time is verbally recounting the social environment, economy, and industry of Ichijōdani, which was destroyed during civil wars.
More importantly, this book is a reliable reference for the study of 16th-century Japan. The author, Morgan Pitelka, is Professor of History at the University of North Carolina at Chapel Hill. Pitelka is an experienced researcher who has written over five books on this topic. His other publications on Japanese history include Handmade Culture: Raku Potters, Patrons, and Tea Practitioners in Japan (2005) and Spectacular Accumulation: Material Culture, Tokugawa Ieyasu, and Samurai Sociability (2016). If readers do not have professional knowledge of Japanese history, they can still feel confident in saying that Pitelka's work is engaging and informative. It is no secret that academic publications have a reputation for being dull. Pitelka avoids tediousness by using fluid language and vibrant imagery while still maintaining an educational and academic stance. Pitelka's book also refrains from falling for using inaccurate and sentiment-driven exaggerations that are sometimes present in other works on medieval Japan. All of these traits make Reading Medieval Ruins a unique and highly recommended history book.
Buy This Book
By purchasing books through this website, you support our non-profit organization. World History Encyclopedia receives a small commission for each book sold through our affiliate partners.
About the Reviewer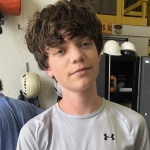 Hi! I'm Fin, and I'm a resident of Orange County California. I am a part time writer, amateur lover and collector of art, student of history and philosophy, and a world traveler.