Translation Fundraiser
Our vision: Free history education for everyone in the world, in every language. That's a lofty goal indeed, but that won't stop us from working towards it. To get there we need to translate... a lot! Please donate today and help us make a truly global impact. Thank you very much!
Review
Send to Google Classroom:
The Egyptian Book of the Dead was known in ancient Egypt as `The Book of Coming Forth by Day' and contains spells and prayers to help the deceased in navigating the safest route to the afterlife in the Field of Reeds. Composed c. 1550 BCE, the work reflects the most deeply held beliefs of the ancient Egyptians and provides fascinating insight into the culture. R. O. Faulkner's translation is clear, concise, and beautiful and is an excellent work for either the beginning student or the expert. This is the translation of the work featured in the gift shop of the Museum of Egyptian Antiquities (The Egyptian Museum) in Cairo, Egypt and is highly recommended.
Buy This Book
$16.57
plus shipping
By purchasing books through this website, you support our non-profit organization. World History Encyclopedia receives a small commission for each book sold through our affiliate partners.
About the Reviewer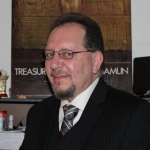 A freelance writer and former part-time Professor of Philosophy at Marist College, New York, Joshua J. Mark has lived in Greece and Germany and traveled through Egypt. He has taught history, writing, literature, and philosophy at the college level.