Review
| | |
| --- | --- |
| Title: | The Silk Road: A New History |
| Author: | Hansen, Valerie |
| Publisher: | Oxford University Press |
| Published: | 2012 |
| Pages: | 320 |
The Silk Road was a network of trade routes, formally established during the Han Dynasty of China, which linked the regions of the ancient world in commerce. As the Silk Road was not a single thoroughfare from east to west, the term 'Silk Routes' has become increasingly favored by historians, though 'Silk Road' is the more common and recognized name. Both terms for this network of roads were coined by the German geographer and traveler, Ferdinand von Richthofen, in 1877 CE, who designated them 'Seidenstrasse' (silk road) or 'Seidenstrassen' (silk routes). The network was used regularly from 130 BCE, when the Han officially opened trade with the west, to 1453 CE, when the Ottoman Empire boycotted trade with the west and closed the routes.
Valerie Hansen's work The Silk Road: A New History is a skilled and stylish history of the famous Silk Road trade routes which criss-crossed the ancient world and had a lasting impact on many cultures. Her narrative style is clear and engaging and the details she provides are fascinating. Whether a reader has extensive knowledge of the Silk Road and the ancient world or is just beginning to explore, this book is an excellent resource. Highly recommended.
Buy This Book
$28.49
free shipping worldwide
$33.20
plus shipping
By purchasing books through this website, you support our non-profit organization. World History Encyclopedia receives a small commission for each book sold through our affiliate partners.
About the Reviewer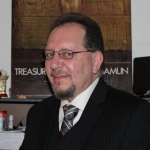 A freelance writer and former part-time Professor of Philosophy at Marist College, New York, Joshua J. Mark has lived in Greece and Germany and traveled through Egypt. He has taught history, writing, literature, and philosophy at the college level.
Cite This Work
APA Style
Mark, J. J. (2012, December 17). The Silk Road: A New History. World History Encyclopedia. Retrieved from https://www.worldhistory.org/review/17/the-silk-road-a-new-history/
Chicago Style
Mark, Joshua J.. "The Silk Road: A New History." World History Encyclopedia. Last modified December 17, 2012. https://www.worldhistory.org/review/17/the-silk-road-a-new-history/.