Server Costs Fundraiser 2021
Please help us pay for the servers and web services required to operate our non-profit organization's website. Any donation helps, no matter how small: If every visitor were to give only $1 we would be fully funded within a day.
Donate Now
Illustration
Send to Google Classroom:
About the Author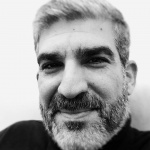 Associate Professor of Neurology and lover of the Cradle of Civilization, Mesopotamia. I'm very interested in Mesopotamian history and always try to take photos of archaeological sites and artifacts in museums, both in Iraq and around the world.
Cite This Work
Chicago Style
Amin, Osama Shukir Muhammed. "A partially vitrified tablet from Nineveh." World History Encyclopedia. Last modified March 28, 2014. https://www.worldhistory.org/image/2448/a-partially-vitrified-tablet-from-nineveh/.