Captain Stede Bonnet was a plantation owner in Barbados who turned to piracy and privateering in 1717. Known as the 'Gentleman Pirate', Bonnet embarked on a life of crime relatively late in life, reportedly in order to escape his nagging wife. He was hanged for his crimes in Charleston, South Carolina in November 1718.
Bonnet's pirate career lasted a mere 20 months, and a portion of that was spent as a virtual prisoner of Edward Teach, aka Blackbeard (d. 1718). Bonnet was a landlubber who struggled to gain the respect of his crew with his absence of maritime knowledge and experience. He was captured in the Carolinas after trading cannon shots with two ships sent by the Governor of South Carolina.
From Farmer to Pirate
Stede Bonnet was born in Barbados in 1689. According to the celebrated pirate's who's who A General History of the Robberies and Murders of the Most Notorious Pyrates, compiled in the 1720s by Charles Johnson/Daniel Defoe, Bonnet was an ex-army major. Unfortunately, there is no mention of a Stede Bonnet in the Barbadian records and so the General History becomes our main source, and a tricky one at that, with its fictional embellishments expertly intertwined with factual information garnered from such sources as trial records and letters.
Not short of funds to begin his project, Bonnet bought a sloop & paid a crew to sail it.
Bonnet had inherited the family plantation in Barbados and received a liberal education. He was, then, in the words of his trial judge, "generally esteemed a Man of Letters" (Cordingly, 18) and firmly set up as a gentleman. Bonnet seems to have suffered a midlife crisis when he decided his respectable life had no value and he wanted adventure. In some accounts, it was Bonnet's nagging wife who pushed him over the edge in March 1717 or, as Johnson/Defoe euphemistically puts it, "some discomforts he found in a married state" (95).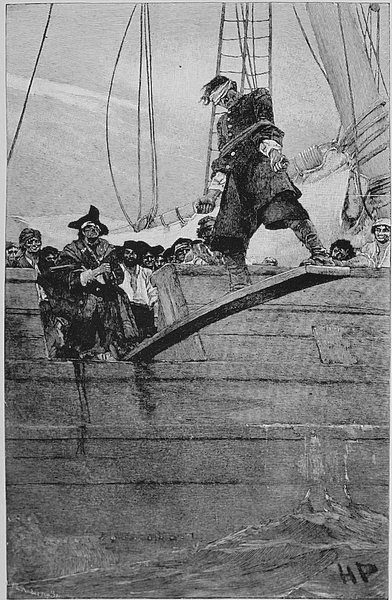 Stede Bonnet, despite having no experience of life at sea, turned to piracy. Not short of funds to begin his project, Bonnet bought a sloop and paid a crew of perhaps up to 70 men to sail it for him. The ship was renamed Revenge, and it was only then that Bonnet revealed his intention to indulge in a spot of piracy. The crew were given the stark choice of either becoming pirates and sharing any booty taken or being marooned on a deserted island. Bonnet then proceeded to capture merchant vessels and relieve them of their cargoes along the east coast of America as far north as New York. Plunder taken included cloth, provisions, and ammunition.
The Plank & Jolly Roger
He might have been new to the pirate game but Bonnet quickly established a reputation as one of the cruelest captains in the Caribbean, a position not without strong competition. Some sources claim Bonnet invented the punishment of walking the plank when a captive was bound, blindfolded, and made to walk a plank suspended from the deck to hover out over the sea. The hapless victim was encouraged to walk out over the abyss by a jeering crew brandishing cutlasses and firing pistol shots. Despite being a favourite form of execution with later pirate fiction writers, there is no historical record of anyone ever having walked a plank in the Golden Age of Piracy.
Another dubious association with Bonnet is his Jolly Roger pirate flag. A popular and much republished engraving from c. 1724 of Bonnet appeared in an early edition of A General History of the Robberies and Murders of the Most Notorious Pyrates. In this engraving, Stede is shown standing before a Jolly Roger with a skull superimposed on two crossbones, however, this version was flown not by Bonnet but by the British pirate Richard Worley (d. 1718). Bonnet did fly a Jolly Roger, and this was a black flag with a skull in the centre, a single bone below, a dagger on the left side, and a heart on the right side. Like all Jolly Rogers and pirate flags, it was hoisted to encourage a ship to surrender without a fight.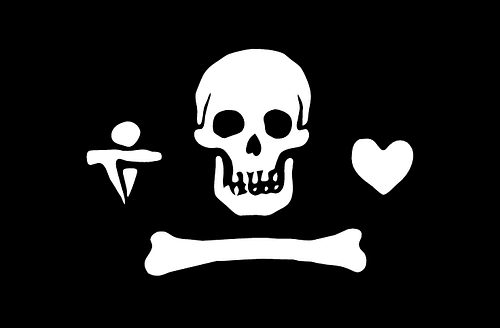 Bonnet & Blackbeard
One of Bonnet's problems as a pirate was that, without knowledge of the sea and navigation, he was entirely dependent on his crew. This was not a good position for a pirate captain to be in, since controlling men at sea was a challenge even for the most experienced of leaders. When Edward Teach came across Bonnet off the Carolinas around March 1718, he ridiculed the former plantation owner's lack of seamanship. Teach got Bonnet drunk one night and then kept him as a captive 'guest' on his ship the Queen Anne's Revenge, a much larger and more powerful pirate ship than Bonnet's. Meanwhile, Teach allowed Bonnet's crew to elect themselves a new captain, one Lieutenant Turner. The Boston News Letter reported a sighting of Bonnet on Blackbeard's ship where he was described as walking about on deck "in his morning gown", before retiring below "to his books of which he has a good library aboard" (Cordingly, 18).
The colonial governors in the Caribbean & North America were under direct orders to stamp out piracy.
Eventually, Teach released Bonnet who was not given any of his booty back, but at least he regained command of the Revenge. Teach advised Bonnet to give up piracy and instead seek a pardon from Governor Charles Eden of Bath Town in North Carolina. This Bonnet did receive in the summer of 1718, but only by promising the governor that he would help to capture Teach. Another condition or result of this pardon was that Bonnet became a privateer for the governor. The target was the ships of Spain, then at war with England. Bonnet did give a half-hearted chase to Blackbeard, but he did not pursue the pirate back to his lair at Ocracoke. Rather than formally register as a privateer, Captain Bonnet was soon lured back to the easy pickings of a life of piracy.
Capture at Cape Fear River
To make it harder for the authorities to trace him, the Revenge was renamed Royal James, and Bonnet himself sailed under the name of Captain Thomas. The ship now carried ten guns and had a crew of around 40 men. Bonnet captured several merchant vessels in Delaware Bay and along the coast of Virginia, but these waters and those of the Caribbean were becoming increasingly dangerous for pirates. In 1718, the colonial governors in the Caribbean and North America were under direct orders from London to stamp out piracy in the region.
To capture pirates, the governor of South Carolina despatched a task force commanded by a local officer, Colonel William Rhett. The force consisted of two sloops, the Henry and the Sea Nymph, which carried eight guns each. Rhett spent a couple of weeks looking for another notorious pirate sighted in these waters, Charles Vane, but without success. Rhett then found Bonnet and the Royal James in Cape Fear River, South Carolina at the end of September/early October 1718, just as informers had promised he would. Bonnet had been anchored there for weeks where he had careened his sloop to give its hull some much-needed repairs.
Rhett's initial attack stalled almost immediately when both of his sloops ran aground on a sandbank. A party of Bonnet's men spotted the stricken ships and reported back to their captain further upriver. At dawn the next day, Bonnet tried to sneak past the two warships and make for the open sea, hoping they were both still stranded. This was not the case and Rhett's ships turned to head off Bonnet. In an effort to avoid the warships, Bonnet then sailed too close to the shore and ran aground himself. The two warships approached the Royal James but were once more grounded in the shallow waters.
With all three ships stuck fast, the two sides fired their cannons at each other for around an hour. The tide was coming in and so it became a question of which ship would free itself first and be able to manoeuvre itself into a favourable position for a devastating broadside. It was the Henry that came free first, and the ship began to rake the Royal James with such heavy fire that Bonnet was obliged to surrender.
Bonnet was taken in chains to Charleston (then called Charles Town), South Carolina. As a former gentleman, Bonnet entertained some hopes that he would be given a lenient sentence, but it was not to be. Certainly, his case was not helped by his escape attempt. Bonnet had been in custody in a private home prior to his trial but had bribed his guards to allow him to flee. Rhett pursued Bonnet to a nearby island and captured him for a second time. Another point against Bonnet was Blackbeard's infamous blockade of Charleston a few months before, which made the authorities doubly determined to stamp out piracy once and for all. A letter from Bonnet to the authorities pleading for clemency went unanswered. Bonnet and 34 of his crew were tried, found guilty of piracy against 13 ships and, more seriously under English law, multiple accounts of murder. Bonnet and 28 of his crew were hanged on 12 November 1718. Four other crew members and Ignatius Pell, who had turned informant, were acquitted.
According to witnesses, Bonnet did not meet his punishment below the high-water mark of Charleston harbour with any amount of courage, as noted by Johnson/Defoe:
All his resolution failed him, and his fears and agonies so wrought upon him, that he was scarce sensible when he came to the place of execution. His piteous behaviour under sentence, very much affected the people of Province, particularly the women, and great application was made to the governor for saving his life, but in vain. (111)