Video
Send to Google Classroom:
The Vedas are religious texts from Ancient India that inform the religion of Hinduism. The religion of Hinduism is known by adherents as Sanatan Dharma which means "eternal order" and the Vedas are thought to be the literal words of God which convey that order to humanity. The word 'Veda' means knowledge, and it is thought that the texts contain fundamental knowledge about the function and personal response to existence.

They were believed to have always been in existence, and were not revealed by certain people, but apprehended by sages from the Universe itself while in deep meditative states. The Vedas are considered one of, if not the oldest religious texts in the world. They were written down in the midst of the Bronze Age, approximately 1500 BCE, but they existed prior to this in oral tradition; passed down from master to student for generations.

There are four texts which make up the Vedas, the Rig Veda, Sama Veda, Yajur Veda and the Atharva Veda, with the Rig Veda being both the oldest, and considered the most important. Each of these can be further divided into different texts; Aranyakas which depicts rituals and observances, Brahmanas which is a commentary on the rituals, Samhita which are benedictions, prayers and mantras and the Upanishads which are philosophical narratives and dialogues. It is the Upanishads that are the best known, the most often read, and the first sections to have been translated into other languages.

— ATTRIBUTIONS —
You can find all attribution and credits for images, animations, graphics and music here - https://worldhistory.typehut.com/introduction-to-the-vedas-the-religious-texts-from-ancient-india-images-and-attributions-6128

— THUMBNAIL IMAGE —
https://commons.wikimedia.org/wiki/File:1500-1200_BCE_Rigveda,_manuscript_page_sample_i,_Mandala_1,_Hymn_1_(Sukta_1),_Adhyaya_1,_lines_1.1.1_to_1.1.9,_Sanskrit,_Devanagari.jpg
Ms Sarah Welch - Own Work
CC BY SA 4.0
About the Author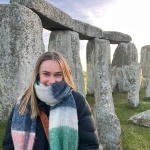 Kelly is a graduate from Monash University who has recently completed her BA (Honours) in Ancient History and Archaeology, focussing on iconography and status in Pylos burials. She has a passion for mythology and the Aegean Bronze Age.