Video
Send to Google Classroom:
The Hungry Ghost Festival, also known as the Ghost Festival is celebrated either on the night of the 14th or the 15th day (depending on where you live in China), of the seventh month of the lunar year, known in the West as August. In other countries, which celebrate a similar festival, it is observed earlier or later. The Hungry Ghost Festival is the most important festival of the Hungry Ghost Month, and on this day the dead are remembered and honoured, meals are prepared three times, plates and settings are put at the table for ancestors, and the feast at night is full of burning incense and joss paper.

It is believed by Taoists and Buddhists alike that on the first day of the Hungry Ghost Month, the gates of heaven and hell are opened, and one's ancestors, as well as restless, uncared for, and vengeful spirits walk the earth for the whole month until the gates close on the last day. On the last day of Hungry Ghost Month, the gates of hell begin to close, and more paper money and clothes are burnt for the spirits to send them back to their own land. To drive the ghosts away, Taoist monks chant, since it's believed the ghosts don't like the sound. Paper lanterns are made, often with the name of ancestors written on them, which are placed in rivers. It is believed that the ghosts follow the paper lanterns away toward their own realm and the gates of hell close behind them, keeping the dead apart from the living until the next year.

— ATTRIBUTIONS —
You can find all attribution and credits for images, animations, graphics and music here - https://worldhistory.typehut.com/history-of-the-chinese-hungry-ghost-festival-images-and-attributions-5908

— THUMBNAIL IMAGE —
https://www.flickr.com/photos/benoxi/4968615272/in/album-72157624902723308/
Benoxi
CC BY 2.0
About the Author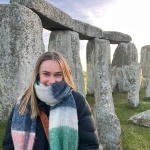 Kelly is a graduate from Monash University who has recently completed her BA (Honours) in Ancient History and Archaeology, focussing on iconography and status in Pylos burials. She has a passion for mythology and the Aegean Bronze Age.