Video
Send to Google Classroom:
The god Apollo in Greek mythology is the Olympian god of, well, quite a lot! Apollo is associated with the bow, music, divination, the sun, poetry, healing and medicine and, who would have thought, plagues. He was one of the most loved gods of the Ancient Greek world, and it may have been because he was associated with so many positive things in life and he was worshipped primarily at the sanctuaries of Delos and Delphi.

A unique aspect of Apollo's responsibilities was as the god of divination, and this was seen through the Oracle of Delphi. People would travel from far and wide to visit the oracle of Delphi, which was a manifestation of Apollo's prophetic powers, and people would ask the priestess or Pythia, questions which were often answered in very confusing and obscure ways. Apollo is also associated with a number of objects, including his silver bow which was made by the Olympian god of metallurgy, Hephaestus, a Laurel branch, a kithara or lyre, a palm tree and an omphalos, which is the naval or the centre of the world which was believed to be Delphi, and was a site which boasted one of Apollo's most important sanctuaries.

Apollo had an active role in the Iliad, helping out the Trojans and saving the lives of heroes like Hector, Aeneas, and Glaukos on a number of occasions. Two of the best-known myths which are associated with Apollo are those of Daphne and Hyacinth.

— ATTRIBUTIONS —
You can find all attribution and credits for images, animations, graphics and music here - https://worldhistory.typehut.com/the-greek-god-apollo-the-myths-of-the-olympian-god-of-music-medicine-the-sun-and-archery-images-and-attributions-5735

The music used in this recording is the intellectual copyright of Michael Levy, a prolific composer for the recreated lyres of antiquity, and used with the creator's permission. Michael Levy's music is available to stream at all the major digital music platforms. Find out more on:
https://www.ancientlyre.com
https://open.spotify.com/artist/7Dx2vFEg8DmOJ5YCRm4A5v?si=emacIH9CRieFNGXRUyJ9
https://www.youtube.com/channel/UCJ1X6F7lGMEadnNETSzTv8A

— THUMBNAIL IMAGE —
https://en.wikipedia.org/wiki/File:Apollo_and_Daphne_(Bernini).jpg
Architas
CC BY SA 4.0

World History Encyclopedia
www.worldhistory.org
About the Author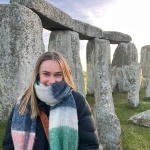 Kelly is a graduate from Monash University who has recently completed her BA (Honours) in Ancient History and Archaeology, focussing on iconography and status in Pylos burials. She has a passion for mythology and the Aegean Bronze Age.