Video
Send to Google Classroom:
The discovery of the Rosetta Stone unlocked the secrets of Ancient Egypt with the Ancient Greek and Demotic texts being the key to translating the Hieroglyphics for the first time. So, if you want to know what the Rosetta Stone is, why it's so important and why it's so famous, make sure to stick around! The text carved onto the Rosetta Stone dates to the year 196 BCE, and we know this because the text is actually a very run-of-the-mill document, and each script outlines what King Ptolemy V Epiphanes had achieved in the year since his coronation.

Where was the Rosetta Stone found, you may ask, and well, the answer is in the name! In 1799 Napoleon Bonaparte and his troops were in Egypt, and Lieutenant Pierre François Xavier Bouchard removed the Rosetta Stone from a section of an old wall of a building that was being demolished. The beginning of the decipherment began with the Englishman Thomas Young who worked out the direction in which the hieroglyphics were meant to be read, and identified some of the hieroglyphs which related to Ptolemy V Epiphanes. It was then in the early 1820s that the script was fully deciphered by the French linguist and scholar Jean-François Champollion.

— ATTRIBUTIONS —
You can find all attribution and credits for images, animations, graphics and music here - https://worldhistory.typehut.com/the-rosetta-stone-what-is-it-and-why-is-it-so-important-images-and-attributions-5448

The music used in this recording is the intellectual copyright of Michael Levy, a prolific composer for the recreated lyres of antiquity, and used with the creator's permission. Michael Levy's music is available to stream at all the major digital music platforms. Find out more on:
https://www.ancientlyre.com
https://open.spotify.com/artist/7Dx2vFEg8DmOJ5YCRm4A5v?si=emacIH9CRieFNGXRUyJ9
https://www.youtube.com/channel/UCJ1X6F7lGMEadnNETSzTv8A

— THUMBNAIL IMAGE —
https://commons.wikimedia.org/wiki/File:Rosetta_Stone.JPG
© Hans Hillewaert / CC BY-SA 4.0
About the Author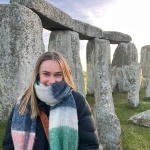 Kelly is a graduate from Monash University who has recently completed her BA (Honours) in Ancient History and Archaeology, focussing on iconography and status in Pylos burials. She has a passion for mythology and the Aegean Bronze Age.