Video
Send to Google Classroom:
Matariki is the name of a star cluster that can be seen from New Zealand in the early morning of the months in mid-winter. New Zealand's Matariki is the name for the Maori New Year and the star cluster. It is one of the brightest star clusters, and is one of the clusters closest to earth at 440 light-years away. The cluster is made up of over 500 stars, but the brightest nine are visible to the naked eye. The star cluster Matariki is known by different names in a number of different languages, including the Pleiades (the ancient Greek name for the cluster) or the Seven Sisters in English and Subaru in Japanese which means gathered together.

When Matariki appears in the night sky, it signals the beginning of the New Year, although some iwi may not start the celebrations until the first full moon after the appearance of Matariki, or the next new moon. It was believed that the brighter Matariki glowed, the better and warmer the weather would be in the growing season. The cluster would have also been used to help those voyaging on canoes navigate across the Pacific sea.

The world Matariki means both eyes of god and little eyes, and according to myth when the god of wind Tāwhirimātea discovered that his parents Ranginui (the sky father) and Papatūānuku (the earth mother) had separated, he wrenched out his eyes in anger and threw them into the sky, and so the seven main stars in the Matariki cluster are his seven eyes.

— ATTRIBUTIONS —
You can find all attribution and credits for images, animations, graphics and music here - https://worldhistory.typehut.com/the-history-of-new-zealand-s-matariki-maori-new-year-images-and-attributions-5311

The music used in this recording is the intellectual copyright of Michael Levy, a prolific composer for the recreated lyres of antiquity, and used with the creator's permission. Michael Levy's music is available to stream at all the major digital music platforms. Find out more on:
https://www.ancientlyre.com
https://open.spotify.com/artist/7Dx2vFEg8DmOJ5YCRm4A5v?si=emacIH9CRieFNGXRUyJ9
https://www.youtube.com/channel/UCJ1X6F7lGMEadnNETSzTv8A

— THUMBNAIL IMAGE —
https://en.wikipedia.org/wiki/File:Pleiades_large.jpg
NASA / https://hubblesite.org/contents/news-releases/2004/news-2004-20.html
Public Domain
About the Author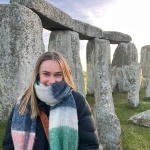 Kelly is a graduate from Monash University who has recently completed her BA (Honours) in Ancient History and Archaeology, focussing on iconography and status in Pylos burials. She has a passion for mythology and the Aegean Bronze Age.