Video
Send to Google Classroom:
The Maya are a people indigenous to Mexico and Central America who have continuously inhabited the modern regions of Yucatan, Quintana Roo, Campeche, Tabasco, and Chiapas in Mexico and southward through Guatemala, Belize, El Salvador and Honduras for over a thousand years. The Maya built soaring pyramidal structures all across Mesoamerica. The culture was made up of independent city-states, and the architecture shows both regional differences and similar attention and layout throughout the cities.

The Maya calendar isn't actually one calendar, but two which work together simultaneously. There's the Haab and the Tzolkin, and the two calendars working together is known as the Calendar Round, but can only account for dates 52 years in the future. The Long Count Calendar, which is the calendar that attained lots of international interest leading up to 2012, is the one used for longer calculations. The long calendar which began on 11 August 3114 BCE, went into its next cycle on 21 December 2012 CE. There were never any writings by the Maya which suggested a worldwide catastrophe on the day in which the next cycle began, and the calendar can just continue on for millions and billions of years.

The civilization did not end, however, and the claim that the Maya "mysteriously" disappeared is unfounded. Today, the Maya still farm the same land and travel the same rivers as their ancestors, often observing their same beliefs and speaking their same language. Although the region was Christianised, the religious practices today are something of a hybrid of European Catholic Christianity and Maya mysticism.

— ATTRIBUTIONS —
You can find all attribution and credits for images, animations, graphics and music here - https://worldhistory.typehut.com/the-maya-calendar-culture-and-history-an-introduction-to-a-mesoamerican-civilization-images-and-attributions-4757

The music used in this recording is the intellectual copyright of Michael Levy, a prolific composer for the recreated lyres of antiquity, and used with the creator's permission. Michael Levy's music is available to stream at all the major digital music platforms. Find out more on:
https://www.ancientlyre.com
https://open.spotify.com/artist/7Dx2vFEg8DmOJ5YCRm4A5v?si=emacIH9CRieFNGXRUyJ9
https://www.youtube.com/channel/UCJ1X6F7lGMEadnNETSzTv8A

— THUMBNAIL IMAGE —
https://en.wikipedia.org/wiki/File:Chichen_Itza_3.jpg
Daniel Schwen
CC BY-SA 4.0
About the Author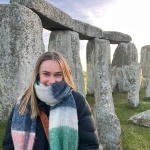 Kelly is a graduate from Monash University who has recently completed her BA (Honours) in Ancient History and Archaeology, focussing on iconography and status in Pylos burials. She has a passion for mythology and the Aegean Bronze Age.