Video
Send to Google Classroom:
A Creative Presentation of the essence of Sanai's "The Walled Garden of Truth".

Lisa Gerrard mix
Hakim Sanai (l. 1080-c. 1131 CE) - The Walled Garden of Truth
About the Author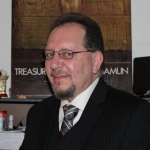 A freelance writer and former part-time Professor of Philosophy at Marist College, New York, Joshua J. Mark has lived in Greece and Germany and traveled through Egypt. He has taught history, writing, literature, and philosophy at the college level.