Navigation
Biography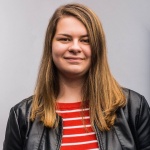 Translation and Interpreting student at Eötvös Loránd University, Hungary. The translator of the International Telecommunication Union: Child Online Protection Guidelines publication into Hungarian.
Journalist at ELTEOnline, writing about culture.
Former project manager for the Art is Business magazine, which, uniquely in Hungary, is the only publication that focuses on the bridge between the art and for profit scenes.
Analytics
5,577 pageviews on this user's contributions