Navigation
Biography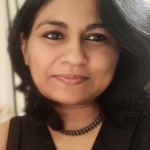 Dr Vineeta Sharma is currently Associate Professor (Economics) at Kirori Mal College, University of Delhi, India. She has been a visiting faculty at the Indian Institute of Management (IIM), Rohtak. She has been engaged with teaching and research for nearly two decades. She obtained her doctorate degree from the Delhi School of Economics, University of Delhi in 2016. Her PhD work is on economic growth and business cycles, for which she was conferred a special commendation from the EXIM Bank in 2017. She has been involved with the prestigious United Nation's World Project LINK.
She has actively presented her work in international conferences and published in reputed journals on aspects of international macroeconomics, recessions and their recoveries. Her research interests also include development economics, and economics of discrimination. She has published articles on gender and environment. She has been a research consultant with the BSF, Ministry of Home Affairs (2010-11) on a research project "Cross border illegal trade between India and Bangladesh". She has served as a referee for international journals.
Apart from her publications in Economics, she has authored several poems and short stories, both in English and Hindi in reputed journals and magazines. She is a history enthusiast and is interested in Ancient World History.
Analytics
649 pageviews on this user's contributions