Navigation
Biography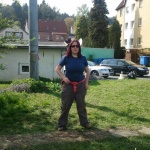 Ever since the age of 6, I have been fascinated with history and archaeology. It was during my academic studies that I found my real passion: British prehistory, as well as human evolution. I have previously worked as an archaeologist, but have now moved away from fieldwork, to do more lab-based analysis.
My academic interests include:
Neolithic and Bronze Age Astronomy and Ritual.
The Evolution of Language and Symbolism, and Evolution of the brain in Human Evolution.
Iron Age Coinage.
Coin Hoards.
Analytics
6,638 pageviews on this user's contributions