Navigation
Biography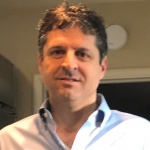 David Tollen a best-selling and award-winning author, expert witness, attorney, sought-after speaker, and instructor at U.C. Berkeley Law School. He specializes in explaining complex topics in simple, user-friendly language.

David wrote THE TECH CONTRACTS HANDBOOK, which has for years ranked as the #1 bestseller on Amazon from ABA Publishing. He also wrote THE JERICHO RIVER, a multiple-award-winning YA novel that uses fantasy to teach world history.

David teaches IT contracts at U.C. Berkeley Law School. And he works as a lawyer, legal trainer, and expert witness at companies he founded. He also serves on the board of advisors for World History Encyclopedia.

David has degrees from Harvard Law School and Cambridge University, as well as a B.A. in history from U.C. Berkeley.

You can learn more about David at his blog, Pints of History (www.PintsofHistory.com). There you can also read about the book he's writing, a work of nonfiction: ORIGIN STORIES, The Deep Histories Behind Today's News.
Analytics
2,448 pageviews on this user's contributions