Navigation
Biography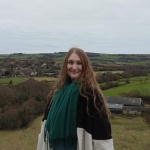 Chloe Justin a depuis toujours été passionnée par la linguistique et l'Histoire. Après s'être orientée vers des études de littérature anglaise et d'histoire de l'Art, elle a effectué une formation de traductrice/interprète trilingue en francais, anglais et espagnol à l'Université Catholique de Lyon. Conjointement à ses études mêlant traduction, communication et géopolitique, elle a continué de s'intéresser à l'Histoire antique et médiévale sur son temps libre.
En dehors de ses études, elle a appris à parler le chinois ainsi que le gallois et a développé une passion pour l'écriture.

Chloe Justin has always had a passion for linguistics and History. After studying English literature and art history, she trained as a trilingual translator/interpreter in French, English and Spanish at the Catholic University of Lyon.
In addition to her studies in translation, communications and geopolitics, she continued to take an interest in ancient and medieval history in her spare time.
Outside her studies, she has learned to speak Chinese and Welsh and has developed a passion for writing.
Analytics
468 pageviews on this user's contributions