Navigation
Biography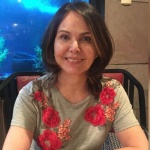 Cecilia was a travel agent for 7 years before she was attracted by the advertising field in which she began a career that has lasted 25 years.
She has been working in Peru as Client Account Director for several local and global brands, along with her team.
In the beginning, she would alternate her advertising training with her studies in the Marketing and Sales Programme in Universidad del Pacífico in Lima.
Her training in the investigative process sparked an interest in ancient cultures and civilizations. Since then, she has enjoyed attending lectures, and, when travelling, she focuses on visiting historical landmarks. Additionally, Cecilia is the owner of a men's gift store in Lima.
Analytics
2,299 pageviews on this user's contributions