Navigation
Biography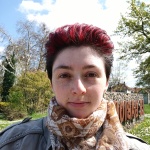 I am a certified data engineer with a strong background in translation and writing. I have an in-depth knowledge of French, English, which has enabled me to translate articles and data on many subjects, particularly related to science and archaeology. Not only that, but I have also been providing subtitles in both French and English for more than 5 years for films, TV series, commercials, and more.

As a tech translator, I also translate Apps (UI & Content), Websites (UI & Content, including SEO Terms), Software programs (UI & Content), and tech documents (such as Software programs Requirements Documents for example).

As a data engineer, I performed technical translations in different languages and also work on an analytical platform to help predict trend related to archaeological sites. Most of my work is related to analysis of archaeological data (archaeometry, archaeobotany, geoarchaeology, paleontology).
Analytics
8,170 pageviews on this user's contributions