Navigation
Biography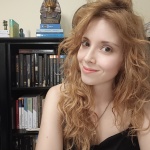 Graduated in Archaeology, in 2018, at the University of Minho (Braga, Portugal). Currently, Claudia is working on her Master's thesis in Archaeology, about Ksar Sghir (North Morocco), at the same institution (2018 - present).
Collaborator in the magazines, Egiptologia 2.0 (Barcelona) and El Aldabon - Gaceta Interna del Museo Nacional de las Culturas del Mundo (Mexico).

Main interests: Archaeology, Landscape Archaeology, Egyptian Archaeology, Egyptology, Near Eastern Archaeology, Assyriology, North Moroccan studies.
Analytics
59,031 pageviews on this user's contributions