Navigation
Biography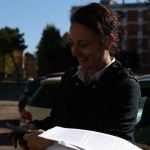 I am fond of history.
I graduated in Greek and Latin Literature at the University of Padua. Then I obtained a post-graduate specialization in History of Medieval and Modern Art at the University "Cattolica" of Milan (3 years) and a post-graduate specialization for teaching in secondary school at the University of Venice (2 years).
I worked as archaeologist, realizing the dream I had as a child. I currently teach Latin and Greek in high schools.
Analytics
54,545 pageviews on this user's contributions