Navigation
Biography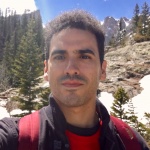 I'm an English teacher in Houston, Texas. I went to the University of Houston and graduated with a B.A. in Italian Studies and World Cultures and Literatures.

My passion for ancient history was sparked during my time in college. First, my Ancient Civilizations course under Dr. Frank Holt, one of the world's leading authorities and authors on Alexander the Great, was one of the most memorable courses I had ever taken. He taught with passion and I couldn't help but fall in love with the ancient world. Every section of the class was taught with a gripping narrative, clarity that transported me to another time, and even actors in full Roman Legionary gear that he brought to class! I am also grateful to my professor of the classics of literature in antiquity, Dr. Francesca Behr, for her course over Virgil's Aeneid. To prepare us, she had to give us the proper historical context and Augustus' Rome was the perfect backdrop for Virgil's masterpiece. It was in this course where I discovered my passion for Ancient Rome, particularly Augustus' Principate.

My courses with Dr. Alessandro Carrera instilled in me a love for learning and curiosity. In his classes, no matter what the official course title was, he passionately taught a wide variety of topics. His passions could not be contained to one subject. I discovered my love for classical music in one of his literature courses. Dr. Carrera inspired me to continue learning and to never stop being inquisitive, even after I graduated.

In addition to Ancient Rome, I'm also incredibly passionate about the Italian language and culture. My grandparents on my mother's side emigrated from Sicily and came stateside in the 1950s. When I was a child, I would go to my grandparents' house and I desperately wanted to understand what they were talking about, so my parents bought me Italian books and movies and I taught myself Italian. I've been passionate about Italian ever since.

I have been an assistant artist on multiple murals around Houston that have been featured on Forbes, the Houston Chronicle, ABC, and a variety of news channels. https://www.heritagesociety.org/mexican-mural-project The link for the newest mural completed in the summer of 2018. My father, Jesse Sifuentes, was the lead artist, I was the artist assistant.
Analytics
73,046 pageviews on this user's contributions