Review
| | |
| --- | --- |
| Title: | |
| Author: | Anonymous |
| Published: | 1970 |
Mr. Robin Waterfield's Athens: From Ancient Ideal to Modern City is an excellent work. Whether one is a scholar of the ancient world or simply has an interest in Greek history, this book rewards one's time and effort. The history reads like a novel and the prose moves quickly without sacrificing the integrity of the subject matter. Any of Mr. Waterfield's works are worth reading and it is hard to choose a favorite. Even so, Athens is very close to the top of my personal list. An excerpt:
There is no doubt that Perikles owed his prominence to his personal qualities, especially his gifts as an orator (he had the ability to translate the complex business of empire into terms the layman could understand) and his determination and acknowledged expertise as a statesman. In many ways the flavor of Athens in the 440s and 430s, at the height of its cultural greatness and splendor, seems to be attributable to Perikles' influence. Perikles epitomized cultural values by surrounding himself with intellectuals and, more important, by pursuing the building and rebuilding program which has secured Athens's fame for all time. Many of the buildings whose sad, splendid remains we still see in Athens were started during his rule and owe their existence to his decision to make his city the fairest in the world (p.88).
The book begins with a consideration of the Olympics in the present day and then takes a reader back through time to the ancient past. The detail, as usual with Mr. Waterfield's books, is spectacular. Athens is a thoroughly engaging book and highly recommended.
Buy This Book
By purchasing books through this website, you support our non-profit organization. World History Encyclopedia receives a small commission for each book sold through our affiliate partners.
About the Reviewer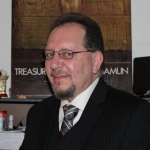 A freelance writer and former part-time Professor of Philosophy at Marist College, New York, Joshua J. Mark has lived in Greece and Germany and traveled through Egypt. He has taught history, writing, literature, and philosophy at the college level.