Review
| | |
| --- | --- |
| Rating: | |
| Title: | Pox Americana: The Great Smallpox Epidemic of 1775-82 |
| Author: | Fenn, Elizabeth A. |
| Audience: | University |
| Difficulty: | Medium |
| Publisher: | Hill and Wang |
| Published: | 2002 |
| Pages: | 384 |
Elizabeth A. Fenn shares her comprehensive research on the smallpox epidemic from 1775-1782. While historians have studied the smallpox epidemic during the American Revolution and have identified the declining Native American population due to diseases in earlier centuries, Fenn claims that the late 18th-century smallpox epidemic also contributed to this decline. This book is suitable for college-level students learning early American history.
Since its original publication in 2002, Pox Americana has become a hugely influential scholarly work. In this book, Elizabeth A. Fenn argues that while the American Revolution changed political and military conditions throughout the world, the smallpox epidemic created upheavals throughout North America from 1775 to 1782. Serving as Distinguished Professor of Early America and Native American History at the University of Colorado-Boulder, Fenn uses her expertise on diseases and Native American history to discuss the causes, spread, and communities affected by smallpox. In addition to secondary sources from leading historians, Fenn cites burial records from Catholic parishes in Spanish America and correspondence from American revolutionaries, including John and Abigail Adams and George Washington.
Pox Americana sheds much-needed light on smallpox's devastating effects on the Native American population.
This book connects with professors and college students studying the American Revolution, Native American history, or epidemic diseases. Fenn's work is especially relevant right now as other viruses have recently spread across the globe. Social and political debates during the late-18th century smallpox epidemic seem familiar to the recent responses to global pandemics in the 21st century. Perhaps Fenn should consider releasing an updated edition comparing the modern pandemic to the smallpox epidemic in the 1770s.
Pox Americana provides a comprehensive account of smallpox's spread across North America from the East Coast to Spanish Mexico and northward into the Pacific Northwest and British Canada. Fenn makes clear that the smallpox virus spread through diverse connections, especially civilians protesting in large groups, soldiers fighting in close quarters, Native Americans trading with colonists, slaves living on plantations, and other population gatherings.
Fenn organizes her work into eight chapters, and each chapter focuses on a particular region's experiences with smallpox in the late-18th century. Chapter One looks at smallpox's symptoms and contagion as well as each region's attempts to control the virus through quarantine, inoculation, or other methods. While Chapter Two chronicles the American colonists and the Continental Army combating both smallpox and the British military, Chapter Three details George Washington's decision to require inoculations at Valley Forge that allowed his soldiers to fight the rest of the war without infections. Chapter Four explains how militiamen, soldiers who were formerly slaves, and prisoners of war did not receive inoculations and thus were impacted greatly by the virus. Chapter Five analyzes smallpox in Spanish Mexico, especially in the tight quarters of the silver mines. Chapter Six spotlights how smallpox spread through the trade networks between European merchants and Native American communities in the Great Lakes and Hudson Bay regions. Chapter Seven retraces the trade routes, and smallpox, among the Great Plains tribes. Chapter Eight focuses on smallpox's spread into the Pacific Northwest, killing more Native Americans there than anywhere else as a result of isolation and a lack of prior exposure to European diseases.
Fenn's research offers insights into the rapid spread of smallpox from 1775 to 1782 that reached far beyond the American colonists and into Spanish Mexico, the Great Plains, and the Pacific Northwest. While Native American depopulation began with Christopher Columbus's arrival in the New World in the late-15th century, depopulation continued for centuries afterward and spiked again in the late-18th century. While Fenn does not include a bibliography, she compiles her endnotes by chapter and her index in alphabetical order. Researchers can locate her sources and key terms with ease. In addition, she includes dozens of images that show different cultural depictions of smallpox's devastating rashes as well as maps that help readers visualize the remote regions where smallpox spread to. Fenn's comprehensive research fills the gap in the historiography of diseases in North America. Pox Americana sheds much-needed light on smallpox's devastating effects on the Native American population.
Buy This Book
$14.99
By purchasing books through this website, you support our non-profit organization. World History Encyclopedia receives a small commission for each book sold through our affiliate partners.
About the Reviewer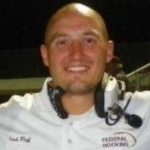 I am an American History teacher and historian. I am an avid reader and write book reviews from leading historians. While I am interested in all subfields of American History, I am most intrigued by the American Civil War and the Cold War Era.