Server Costs Fundraiser 2023
Running a website with millions of readers every month is expensive. Not only do we pay for our servers, but also for related services such as our content delivery network, Google Workspace, email, and much more. We would much rather spend this money on producing more free history content for the world. Thank you for your help!
Review
| | |
| --- | --- |
| Rating: | |
| Title: | Looking for the Hidden Folk: How Iceland's Elves Can Save the Earth |
| Author: | Brown, Nancy Marie |
| Audience: | General Public |
| Difficulty: | Easy |
| Publisher: | Pegasus Books |
| Published: | 2022 |
| Pages: | 288 |
I would recommend this book with reservations. The book is an interesting survey of Icelandic elves as they relate to Icelandic history and sagas, and it is intended for a general audience. This book, however, is more of a personal exploration of the author's experience than a true historical survey. The author attempts to approach the topic from many different directions. This gives the book a fresh and unique research method but also makes her message difficult to follow.
I was intrigued by the title of Nancy Marie Brown's latest book Looking for the Hidden Folk: How Iceland's Elves Can Help Save the Earth. In many ways, I am the ideal audience for this book: a history and anthropology enthusiast with limited knowledge of the topic. But did the book deliver on the promise of its title? That depends.
In this book, Brown adds a new dimension to her Icelandic literary repertoire.
Brown has been traveling to Iceland for over 35 years, and she leads regular tours to the island. Brown, who has a master's degree in comparative literature, is an avid writer on Icelandic and Norse history: she has written eight other books, six of which are related to Iceland, the Icelandic sagas, and Norse history. In Looking for the Hidden Folk, Brown adds a new dimension to her Icelandic literary repertoire as she explores the phenomenon of Icelandic elves through a multi-disciplinary lens.
Brown's passion for Iceland is evident as she describes her many trips to the island, weaving in fascinating tales of the Icelandic sagas and rooting them in the rugged landscape. Her vivid descriptions of Iceland's geographic features paint a picture of a place beyond the tourist postcards and conventional reality. It is in this liminal space that Brown's argument begins to take shape: in a place so desolate, people have had no choice but to respect nature to the point of personifying it in the form of elves.
The book is divided into 18 chapters in five sections. In Section One, Brown gradually introduces the idea that Iceland's elves might just exist. In Section Two, Brown uses the Icelandic sagas to argue for a magical interpretation of nature. Brown advocates in Section Three that the Icelandic view of existence has something to teach us. In the fourth section, Brown relates how Iceland's concept of elves represents an ancient and pre-Christian view of the world. In the fifth section, Brown describes how Christianity at first, and then modern science and technology later on, reduced nature to a commodity and elves to the stuff of fairy tales and loonies.
While Looking for the Hidden Folk is an interesting exploration of the Icelandic elven phenomenon, it does not deeply examine those beliefs to present a coherent formula for how the earth may be "saved" - despite the promise of the book's title. Instead, the book is better understood as a collection of essays that reflect Brown's personal relationship with Iceland and her own spiritual journey. The readers are almost forgotten as Brown enthusiastically surveys her expansive thought process on how modernization separates humanity from its instinctive spiritual nature. The thread of this process is not explicit and is often obscured by tangents on topics that run from physics to quantum theory, neuroscience, filmmaking, geography, etymology, taxonomy, linguistics, and stratigraphy. Additionally, Brown references a sometimes bewildering number of authors who have written about these topics or Iceland itself. This abundance of connections could overwhelm the reader and leave them wondering where Brown is taking them. But when Brown does come to her point and the thread of her thought process becomes clear, the reader is rewarded with a beautiful tapestry of one woman's lifelong experience of Iceland.
Ultimately, this book has more in common with Braiding Sweetgrass (2013) by Robin Wall Kimmerer than it does with Carlo Ginzbeg's The Night Battles (1966). Rather than a thorough and historical exploration of one culture's supernatural beliefs, Brown's book uses anecdotal experience with historical references to ultimately reach a spiritual conclusion. If the reader already holds a spiritual view of nature, they can read between the lines to find a deeper message. If not, Looking for the Hidden Folk is an intriguing but somewhat bewildering introduction to the spiritual side of nature, using Iceland as an enticing backdrop.
Buy This Book
$28.95
plus shipping
By purchasing books through this website, you support our non-profit organization. World History Encyclopedia receives a small commission for each book sold through our affiliate partners.
About the Reviewer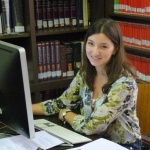 Rachel Porter is a California native living in the Netherlands. She earned a BA in History with Honors at the University of California, Berkeley, where she focused her studies on the Ancient Mediterranean. She works as a professional copy editor.