Server Costs Fundraiser 2023
Running a website with millions of readers every month is expensive. Not only do we pay for our servers, but also for related services such as our content delivery network, Google Workspace, email, and much more. We would much rather spend this money on producing more free history content for the world. Thank you for your help!
Review
| | |
| --- | --- |
| Rating: | |
| Title: | Legacy of Violence: A History of the British Empire |
| Author: | Elkins, Caroline |
| Audience: | General Public |
| Difficulty: | Medium |
| Publisher: | Knopf |
| Published: | 2022 |
| Pages: | 896 |
This book is an impressive and sweeping history of the British Empire from the late 18th to the early 21st centuries. Because Caroline Elkins proposes that British imperial rule relied on the legalization and state-sanctioned violence, this book functions as an essential and timely intervention into contemporary conversations about the legacy of British imperialism. This is a must-read for anyone interested in the history of the British Empire or imperialism at large.
As the title suggests, Caroline Elkins's book tells the history of what historians call the "second British Empire" - the imperial developments that took shape after the disastrous loss of the rebellious American colonies in 1783 - through the lenses of imperialism and the violence that it has caused. Elkins's geographic scope is breathtaking. She analyzes imperial violence in Ireland, Palestine, Kenya, India, Jamaica, Cyprus, South Africa, and many other regions. The periodization of the book is no less ambitious, beginning with the trial of Warren Hastings in 1787 and ending in the 21st century. In this regard, Legacy of Violence is a remarkable synthesis of two decades of scholarship about the British Empire, buttressed by Elkins's own extensive archival work. Scholars, students, and enthusiasts with some prior knowledge about this topic would find this book insightful and enjoyable.
Elkins consistently shows how the British government and its state apparatus used the
law
to sanction violence against colonial subjects.
It is commonly accepted among historians that Britain's version of "liberal imperialism" was premised on spreading freedom and the rule of law to countries or communities that they deemed as "backward." The primary idea behind Legacy of Violence is that Britain viciously warped these promises to justify violence against colonized peoples, especially in the name of preserving core imperial ideals: white supremacy, wealth extraction, imperial prestige, and the endurance of the empire itself. Elkins consistently shows how the British government and its state apparatus used the law to sanction violence against colonial subjects. This "legalized lawlessness," as Elkins terms it, was not distinct from, or in opposition to, the broader project of liberal imperialism but was intrinsic to the reformist vision for Britain's colonies.
Legacy of Violence is 14 chapters long and is divided into three thematic sections. In addition, it contains an Introduction and Epilogue. A prodigious use of images adds flair to the long chapters and elucidates important points with visual evidence. Having more maps and charts, however, might help readers who are unfamiliar with the extent of the British Empire or the lesser-known locations that Elkins discusses. Another potential failing in the book's structure is that Elkins covers nearly the whole 19th century in only one chapter (Chapter One: Liberal Imperialism), meaning that some of the most significant developments in the empire's history are glossed over. On the other hand, curious readers and researchers could make use of the remarkable bibliography to study any potentially underexplored - or simply interesting - topics.
Caroline Elkins is Professor of History and of African and African American Studies at Harvard University. Her earlier book, Imperial Reckoning: The Untold Story of Britain's Gulag in Kenya (2005), won her a Pulitzer Prize. Legacy of Violence, in a way, acts as a sequel to Imperial Reckoning. In Legacy of Violence, it is hard to argue against the compelling and overwhelming evidence that she provides for the systemic and pervasive nature of British imperial violence. However, in arguing for the book's all-encompassing nature, Elkins neglects two key elements that were just as much a part of British liberal imperialism as brutality. Firstly, there were critiques of imperialism and its excesses that came from within Britain itself. These criticisms from the imperial heartland shaped policy, circumscribed behavior, and dampened enthusiasm for Britain's domination in colonial contexts. Secondly, and perhaps more importantly, Elkins's insistence on a theory of totalizing violence downplays or outright ignores how the colonized people used the premise of liberal imperialism - freedom and the rule of law - to force the British Empire to live up to its promises. It is all too easy for Elkins to portray colonized people as little more than victims and passive recipients of British imperial violence. It raises questions about who the true subjects of Elkins's book are and leads the readers to ask: was the British Empire anything more than violence? Unfortunately, readers must look elsewhere for the answer.
Buy This Book
$44.95
free shipping worldwide
$25.49
plus shipping
By purchasing books through this website, you support our non-profit organization. World History Encyclopedia receives a small commission for each book sold through our affiliate partners.
About the Reviewer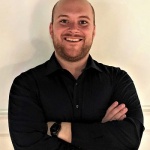 Nick Sprenger is a PhD candidate in the Department of History at Rutgers University. He studies the history of imperial violence in the British Empire during the nineteenth and twentieth centuries.