Review
| | |
| --- | --- |
| Rating: | |
| Title: | Sex and Sexuality in Ancient Rome |
| Author: | Trafford, L J |
| Audience: | General Public |
| Difficulty: | Easy |
| Publisher: | Pen and Sword History |
| Published: | 2021 |
| Pages: | 192 |
Sex and Sexuality in Ancient Rome is a humorous and whistle-stop journey through the laws and regulations around sexual agreements and relationships between different social classes and genders. Trafford questions the truths of the tales of depravity and debauchery often attributed to the Roman emperors, and she takes you through things like contraceptive methods, what the Romans looked for in a partner, and what happened if you did not follow the strict rules of ancient Roman society.
With this one, the entire premise of the book is in the title, it is all about sex and sexuality in ancient Rome. Trafford begins by outlining the language used in ancient Rome that has anything to do with sex or sexuality, she introduces these concepts and then explains them so that you are not left lost throughout the book when they inevitably come up again. She then travels through the intricate and somewhat scandalous history of sex in ancient Rome from the perfect virtuous man and the ideal chaste woman to how to find a woman and who you are and are not meant to be seen fondling in the Roman forum. She details erotic wall paintings and statues, the concept of witchcraft, the tantalising beauty and fashion, and what was all the rage to help you pull on the streets of Rome. Not to mention, Trafford takes it upon herself to tell us all about the sexual exploits of the most well-known figures from ancient Rome, and she does all this with ample evidence (both textual and archaeological). In short, Trafford answers everything you have ever wanted (and really not wanted) to know about sex and sexuality in ancient Rome!
Sex was very much on public display in ancient Rome. It was depicted in art, discussed in poetry, scrawled on walls and used in politics to smear your opponent. (x-xi)
With her hilarious commentary comes an obvious attempt to remove any modern bias that could be placed upon the way sex was experienced in ancient Rome.
This book was a massive undertaking, and may I say that L. J. Trafford understood the task and executed it incredibly well. In this book, you will find chapters named things like Getting Down to Business: Sex, Sexual Problems and Solutions; Undesirable Partners; and How to be Sexy: Beauty and Fashion (just to give you an idea of the types of things discussed)! As a fairly short book (sitting at only 197 pages), Trafford condenses everything you need to know about the Romans in a way that is really easy to read. Her language is colloquial, and her quips and inputs into some of the debauchery that went on in ancient Rome made me laugh out loud. With her hilarious commentary comes an obvious attempt to remove any modern bias that could be placed upon the way sex, marriage, relationships, and all that was used and experienced in ancient Rome. She reminds the reader over and over that there is not really any way we can fully understand the meanings behind the erotic images or the social importance embedded into the rules and laws attached to relationships and sex, but we can do our best! I loved that as Trafford was discussing some facets of Roman sexual experience, she would then bring in detailed case studies and examples from history.
We simply cannot know because we do not share the same cultural background and baggage. The imagery and what it means is lost to us. (158)
Although sometimes Trafford seemed to take the poetry and writings of men like Ovid and Catullus at face value, often she used it to help build the whole picture around the topic she was handling at that time. It is unsurprising that the book was focused on men and boys and what was expected of them (both from an imperial lens, but also the freedmen and slaves) rather than women for the pure reason that we have a lot more information on men than women. With that being said, Trafford interspersed what we do know about women (imperial, slaves, prostitutes, etc.) throughout the book in what seemed like as much detail that was available. It was really wonderful to see different types of evidence (images, paintings, statues, and Roman literature), all used together to try and piece together just what sex was like in ancient Rome, and although it was a quick tour, it was still detailed and highly enjoyable.
This review was originally posted on Kell-Read. Kelly was provided with this ARC for a review by Netgalley.
Buy This Book
$17.35
free shipping worldwide
$20.18
plus shipping
By purchasing books through this website, you support our non-profit organization. World History Encyclopedia receives a small commission for each book sold through our affiliate partners.
About the Reviewer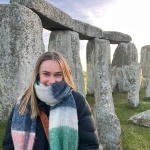 Kelly is a graduate from Monash University who has completed her BA (Honours) in Ancient History and Archaeology, focussing on iconography and status in Pylos burials. She has a passion for mythology and the Aegean Bronze Age.
Cite This Work
APA Style
Macquire, K. (2021, August 22). Sex and Sexuality in Ancient Rome. World History Encyclopedia. Retrieved from https://www.worldhistory.org/review/252/sex-and-sexuality-in-ancient-rome/
Chicago Style
Macquire, Kelly. "Sex and Sexuality in Ancient Rome." World History Encyclopedia. Last modified August 22, 2021. https://www.worldhistory.org/review/252/sex-and-sexuality-in-ancient-rome/.