Server Costs Fundraiser 2023
Running a website with millions of readers every month is expensive. Not only do we pay for our servers, but also for related services such as our content delivery network, Google Workspace, email, and much more. We would much rather spend this money on producing more free history content for the world. Thank you for your help!
Review
| | |
| --- | --- |
| Title: | Ancient Egypt: An illustrated reference to the myths, religions, pyramids and temples of the land of the pharaohs |
| Author: | Lorna Oakes & Lucia Gahlin |
| Publisher: | Hermes House |
| Published: | 2002 |
| Pages: | 512 |
Ancient Egypt: An Illustrated Reference To the Myths, Religions, Pyramed And Temples Of The Land Of the Pharaohs by Lorna Oakes and Lucia Gahlin is among the best books on ancient Egypt I have ever read. The prose is light and well written but very comprehensive in scope. The images which accompany the text are beautiful and well chosen. Probably the best aspect of the work is how accessible it is. The arrangement of the history of ancient Egypt provides a reader with a clear, linear, narrative of the development of the Egyptian civilization and culture. The work is wonderfully presented and instantly engaging. Highly recommended for anyone with an interest in ancient Egypt specifically or ancient history generally. The book deals with all aspects of Egyptian culture as well as with developments in archaeology with a section on `The Founders of Egyptology'. The section on Egyptian deities is comprehensive and clearly presented. A great addition to the library of any afficianado of history.
Buy This Book
$26.43
plus shipping
By purchasing books through this website, you support our non-profit organization. World History Encyclopedia receives a small commission for each book sold through our affiliate partners.
About the Reviewer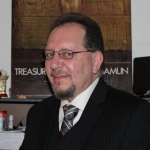 A freelance writer and former part-time Professor of Philosophy at Marist College, New York, Joshua J. Mark has lived in Greece and Germany and traveled through Egypt. He has taught history, writing, literature, and philosophy at the college level.