Review
| | |
| --- | --- |
| Title: | Incidents of Travel in Yucatan, Vols. I and II (Cosimo Classics) |
| Author: | Stephens, John Lloyd & Catherwood, Frederick |
| Publisher: | Cosimo Classics |
| Published: | 2008 |
| Pages: | 672 |
The names of John Lloyd Stephens and Frederick Catherwood are forever linked to the Maya and Mayan studies as the two great explorers who documented the ruins from Copan in the south to Chichen Itza in the north. The stories told by Stephens in his Incidents of Travel in Central America, Chiapas and Yucatan (1841) and Incidents of Travel in Yucatan (1843) complemented by Catherwood's illustrations, focused international attention on the Maya civilization. Catherwood's publication of his book of lithographs Views of Ancient Monuments in Central America, Chiapas and Yucatan (1844) furthered the world-wide interest and lifted the Maya civilization out of obscurity and into world consciousness.
Incidents of Travel in Yucatan will be familiar to anyone who knows 19th century history, especially American history, in that it contributed greatly to the `Mayan Craze' which Stephen's and Catherwood's earlier work, Incidents of Travel in Central America, Chiapas and Yucatan (1841) began. Incidents of Travel in Yucatan was published in 1843 to great acclaim and, like the earlier work, became a best seller. It excited the imagination of people around the world and, especially, the wealthy of the United States of America who wanted Maya ruins they could display on the grounds of their estates (a practice famously ridiculed by Mark Twain).
Incidents of Travel in Yucatan is a magnificent first-person narrative told by Stephens with enchanting lithographs done by Catherwood. The illustrations complement the text perfectly in that the atmosphere of the jungle and the silence of the ruins found in their midst is mirrored in Catherwood's pictures. Excellent work. Highly recommended.
Buy This Book
$53.71
free shipping worldwide
$40.99
plus shipping
By purchasing books through this website, you support our non-profit organization. World History Encyclopedia receives a small commission for each book sold through our affiliate partners.
About the Reviewer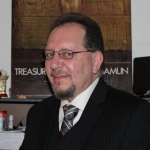 A freelance writer and former part-time Professor of Philosophy at Marist College, New York, Joshua J. Mark has lived in Greece and Germany and traveled through Egypt. He has taught history, writing, literature, and philosophy at the college level.