Review
| | |
| --- | --- |
| Rating: | |
| Title: | |
| Author: | Anonymous |
| Published: | 1970 |
China: A History Volume I - From Neolthic Cultures through the Great Qing Empire by Harold M. Tanner is very clear history of China from prehistoric times to 1799 CE. I have not found that there is a Volume II available but, when or if it comes out, I would certainly buy it. Tanner's style is sometimes a little repetitive in that he goes on too long on a topic to make sure a reader gets the point but, most of the time, he covers the information quickly but thoroughly and moves on to his next topic.
Tanner is especially good at explaining to a reader complex social situations and dramatic events in history. He begins each section with an introductory paragraph which sets the reader up for what will be explained later more completely. An example of this is his discussion of the fall of the Tang Dynasty (618-907 CE). There were many complicated social factors which contributed to the fall of the Tang but Tanner is able to zero in on the central issue which he expands on later. He writes:
The Tang dynasty is famous for its territorial expansion, its great cities and palaces, its flourishing trade, its art, literature, and religious life, and for the luxurious lives of its aristocrats. This power and glory was possible only because the imperial government controlled grain production, labor, and armies. When the Tang state lost control of these things its power declined and it was less able to deal with internal and external crises (172).
The details of the fall of the Tang, such as the emperor Xuonzong's personal failings or the An Lushan Rebellion, are then covered later along with all of the other complex issues. The basic facts of what led to the decline of the Tang Dynasty, though, are all right there in his opening paragraph.
The book is divided into three sections: Part I: The Early Empire: Building Institutions and Identity (2070 BCE-220 CE); Part II: Cultural Interaction and Transformation (220-1368 CE); Part III: A New Confucian Empire (1368-1799 CE). Parts I and III have three chapters each and Part II four chapters. The reader begins with the mythical origins of history and moves on from those tales to historical events supported by records and archaeological evidence.
Overall, it is an enjoyable and very informative work. I would have appreciated more maps of a larger scale as I like to be able to check references to distances between cities or regions when they are mentioned. The book could also use more illustrations of people, architecture, and especially inventions. It helps to have a visual image when one is reading about something as complex as a motorized mountain with a dragon that dispensed wine, for example. The book is still very good even if it lacks images and maps. I would recommend it for anyone interested in Chinese history and definitely for a student studying the subject.
About the Reviewer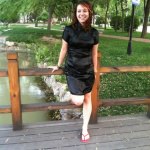 Emily Mark studied history and philosophy at Tianjin University, China and English at SUNY New Paltz, NY. She has published historical essays and poetry. Her travel writing debuts in Timeless Travels Magazine. She graduated from SUNY Delhi in 2018.